William Morris Hunt
Paintings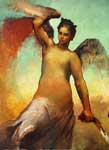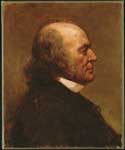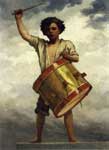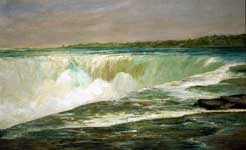 William Morris Hunt (March 31, 1824 – September 8, 1879), American painter, was born at Brattleboro, Vermont to Jane Maria (Leavitt) Hunt and Hon. Jonathan Hunt, who raised one of the preeminent families in American art. William Morris Hunt was the leading painter of mid-19th-century Boston, Massachusetts.
Life and career
Hunt's father's family, the Hunt family of Vermont, were among Vermont's founders and largest landowners; his mother's a family of wealth and prominence in Connecticut.[2] Hunt attended Harvard College but withdrew in his junior year.[3] Having been denied the opportunity to paint and draw by an overbearing father, Jane Leavitt Hunt resolved that her children would be given the chance to study the arts in the best academies—even if it meant moving to Europe to attend them.[4]
Following the untimely death of his Congressman father from cholera, Hunt's mother Jane took him and his brothers to Switzerland, the South of France and to Rome, where Hunt studied with Couture in Paris and then came under the influence of Jean-François Millet, from whom he learned the principles of the Barbizon school. The Hunt family remained in Europe for a dozen years. During part of that time William Morris Hunt and his brother Richard Morris Hunt shared an apartment at 1 rue Jacob, close by the École des Beaux-Arts, where William studied painting under Thomas Couture. "From the training and inspiration each of the brothers was to experience in the next several years in France would come great strides for each in his work," writes historian David McCullough. "'Mr. William Hunt is our most promising artist here,' reported Thomas Appleton to his father."[5]
Afterwards, leaving Paris, he painted and established art schools at Newport, Rhode Island, where he had relatives, Brattleboro, Vermont, Faial Island in the Azores, where he had family connections[6] and finally at Boston, where he painted, taught art and became a popular portrait painter.

William Morris Hunt self-portrait, 1866
The companionship of Millet had a lasting influence on Hunt's character and style, and his work grew in strength, in beauty and in seriousness. He was among the biggest proponents of the Barbizon school in America, and he more than any other turned the rising generation of American painters towards Paris. About his influence, S.G.W. Benjamin wrote in a posthumous assessment of Hunt:
"To the late William M. Hunt that we must ascribe ... the general impulse toward foreign styles now modifying the arts of design in this country. ... The power of Mr. Hunt was ... felt in directing a large number of young art-students to visit Paris, and eventually also Munich, at each of which the tendency has been for some years toward bolder methods in the technics of art. The result has been to introduce to [America] a truer perception of the vital importance of style in the present stage of our art, and to emphasize the truth that he who has anything to say will make it much more effective if he knows how to give it adequate utterance."[7]
On his return in 1855 he painted some of his most handsome canvases, all reminiscent of his life in France and of Millet's influence. Such are The Belated Kid, Girl at the Fountain, Hurdy-Gurdy Boy, and others – but the public called for portraits, and it became the fashion to sit for Hunt; among his best paintings of this genre are those of William M. Evarts, Mrs Charles Francis Adams, the Rev. James Freeman Clarke, Senator Charles Sumner, William H. Gardner, Chief Justice Shaw and Judge Horace Gray.[3]
Sadly, many of Hunt's paintings and sketches, together with five large Millets and other art treasures collected by him in Europe, were destroyed in the Great Boston Fire of 1872. Hunt owned many canvases by Millet, including Millet's The Sower, for which Millet somewhat unwillingly accepted a payment of $60 from Hunt.[8]
Among his later works American landscapes predominated. In the summer of 1878, the year before his death, Hunt painted a series of sweeping views of Niagara Falls.[9] His later works also include the "Bathers: Twice Painted" and "The Allegories" for the Assembly Chamber of the State Capitol at Albany, New York, now lost due to disintegration of the stone panels on which they were painted. (Some scholars trace Hunt's deepening depression that led to his suicide to his despair over the loss of the Albany murals).[10] His book, Talks about Art (London, 1878), was especially well received.

Nor did Hunt confine himself to oil painting. He was prolific, working as a lithographer and sculptor as well. From 1850 to 1877 the Vermont native was Boston's leading portrait and landscape painter; there was a backlog of Brahmins clamoring to be painted by him. Hunt is widely credited for having influenced the styles of Winslow Homer, Childe Hassam and John Joseph Enneking. Hunt's signature lively brushwork, partly derived from study of contemporary European painting, marked a new phase in 'oil sketching' that was carried on by Homer and others. Other friends and associates included artist Frank Hill Smith.[11]
"The greatest of Boston painters", writes art historian G. W. Sheldon in his American Painters, "and one of the few really great American painters, Mr. William Morris Hunt, was born in Brattleboro, Vermont." While a friend and student of Millet, "Hunt is an entirely original artist, and every picture of his is a spontaneous and independent product."[12] In a bit of art history revisionism, some scholars are now re-examining Hunt's powerful pull on other early New England artists, many better-known.[13]
In 1855 Hunt was married in Paris to Louise Dumaresq Perkins, daughter of Thomas Handasyd Perkins, Jr., a Boston merchant, philanthropist and patron of the arts.[14][15] William Morris Hunt was an important figure in New England arts and society, helping to turn the attention of the cognoscenti towards development in the European art world. Besides collecting himself, Hunt encouraged other Boston collectors to buy works by European artists such as Millet, Claude Monet and others.
William Morris Hunt, Niagara Falls, 1878, one of his last paintings.
After one early exhibition of French artists at the Boston Athenaeum including works by Millet and Rousseau, for instance, an art professor at Harvard had written a condemnation in a Boston newspaper. Outraged, painter Hunt fired back a response in The Boston Daily Advertiser. "It is not our fault we inherit ignorance in art," Hunt wrote, "but we are not obliged to advertise it."[16]
In 1867, for instance, Hunt and his wife sailed to Paris to attend the opening of the Exposition Universelle. In his lectures and art classes, Hunt attracted large numbers of students, many of them from prominent Brahmin families. The Boston philosopher and author William James studied with Hunt for a time, before turning away from painting to concentrate on his writing. In 1871 Hunt was elected into the National
Academy of Design as an Associate Academician.
Certainly Hunt's career owed a debt to Boston's intellectual ferment. A luncheon at his club on February 27, 1870, for instance, found these members of Hunt's circle dining together: Ralph Waldo Emerson; James Russell Lowell; Henry Wadsworth Longfellow; Edward Clarke Cabot; Martin Brimmer; Thomas Gold Appleton; William James; Francis Blackwell Forbes; and James Thomas Fields. Joining the group as guest was Erastus Brigham Bigelow, a founder of the Massachusetts Institute of Technology.[17]
Hunt's studio, 1879
William Morris Hunt died at the Isles of Shoals, New Hampshire, in 1879, apparently a suicide.[18] Hunt had gone to the New Hampshire shore to recover from a crippling depression. But he continued to work, executing his last sketch three days before his death. His body was discovered by his friend New Hampshire poet Celia Thaxter.[19]
His brother Richard Morris Hunt was a celebrated architect. His brother Leavitt Hunt was a well-known photographer and attorney.[20] A fourth brother, Jonathan, was a Paris physician who also committed suicide.[21]
The William Morris Hunt Library of the Boston Museum of Fine Arts is named in honor of this painter.[22] (Hunt was a founding member of the Museum of Fine Arts' museum school). Following Hunt's death, his Harvard classmates and other Bostonians contributed to a fund to purchase many of his paintings and donate them to the Museum of Fine Arts.[23]
The Drummer Boy, c. 1862, Museum of Fine Arts, Boston
Aside from the Museum of Fine Arts, the Boston Athenaeum has a number of the artist's works in its collection, a gift of William Morris Hunt II.[24] Also owning works by Hunt are New York City's Metropolitan Museum of Art, the Louvre Museum in Paris, the Musée d'Orsay in Paris, the Fine Arts Museums of San Francisco, the National Gallery of Art in Washington, D.C., the Addison Gallery of American Art at Hunt's alma mater Phillips Academy in Andover, Mass., the Bennington Museum, Vermont, the Bowdoin College Museum of Art, the Brooklyn Museum of Art, the Carnegie Museum of Art in Pittsburgh, the Currier Museum of Art in New Hampshire, the Harvard University Art Museums, Salem's Peabody Essex Museum, the Pennsylvania Academy of the Fine Arts and many others.
In accordance with a long expressed desire, William Morris Hunt was buried beside other family members at Brattleboro, Vermont's Prospect Hill cemetery.[25] Two decades after Hunt's death, his former pupil Helen Mary Knowlton published her biography of the Boston painter entitled The Art-Life of William Morris Hunt.[26]
William Morris Hunt and his wife, the former Louisa Dumaresq Perkins, had five children.[27] Morris sat for a full-length portrait by the artist Emanuel Leutze in Düsseldorf in 1864. Formerly part of the collection of Col. Leavitt Hunt at Elmshome in Vermont, the location of that portrait is now unknown.
See also
Richard Morris Hunt
Leavitt Hunt
Thaddeus Leavitt
Jonathan Hunt (Vermont Representative)
Jonathan Hunt (Vermont Lieutenant Governor)
Jarvis Hunt
The Horses of Anahita, bas relief sculpture prefiguring Hunt's murals for the New York State Capitol, c. 1848, Metropolitan Museum of Art
References
Notes
Olivia Buckminster Lothrop, painted by William Morris Hunt, mid-1860s, Museum of Fine Arts, Boston
The History of the Descendants of John Dwight, of Dedham, Mass., Benjamin Woodbridge Dwight, New York, 1874
The Class of 1844, Harvard College, Fifty Years After Graduation, Prepared by the Class Secretary Edward Wheelwright, John Wilson and Son, Cambridge, 1896
Art-Life of William Morris Hunt, Helen Mary Knowlton, Little, Brown and Company, Boston, Mass., 1899
McCullough, David (2011). The Greater Journey: Americans in Paris. New York: Simon & Schuster.
Hunt, Henry Wadsworth Longfellow, banker J. P. Morgan and writer Samuel Clemens were all houseguests at Bagatelle, the home in Horta in the Azores belonging to the Dabney family, [1] descendants of Bostonian John Bass Dabney, a friend of American Consul at Lisbon William Jarvis appointed by President Thomas Jefferson as American Consul on Faial Island in the Azores.[2] Hunt apparently elected to stay on to teach art classes.
S.G.W. Benjamin, Art in America: A Critical and Historical Sketch, Harpers, 1880
Vermont: A Profile of the Green Mountain State, Federal Writers' Project of the Works Progress Administration, Houghton Mifflin Company, Boston, 1937
Frank T. Pomeroy, Rudyard Kipling, Picturesque Publishing Company, Northampton, Massachusetts, 1894
William Morris Hunt, Portrait of Katherine Dean Hubbard, ca. 1865, Pierce Galleries, Inc., piercegalleries.com
Frank Torrey Robinson. Living New England artists: biographical sketches, reproductions of original drawings and paintings by each artist. Boston: S. E. Cassino, 1888 Google books
American Painters, G. W. Sheldon, Ayer Publishing, 1981
William Morris Hunt, 1824–1879, Sally Webster, Cambridge Monographs on American Artists, Cambridge University Press, Cambridge, 1991
Some Merchants and Sea Captains of Old Boston, State Street Trust Company (Boston, Mass.), State Street Trust Company, Boston, Mass State Street Trust Company, 1918
Thomas H. Perkins Jr.'s Beacon Hill home at 1 Joy Street was the venue for salons of Boston's intellectuals and society figures. Perkins, who had a country home in Brookline, also built one of the last private residences on Louisburg Square at 2 Louisburg Square.[3]
Masters in Art:A Series of Illustrated Monographs, Bates & Guild Company, Boston, Mass., 1908
Journals of Ralph Waldo Emerson, Ralph Waldo Emerson, Waldo Emerson Forbes, Houghton Mifflin Company, Boston, 1914
Death of William Morris Hunt, The New York Times, September 9, 1879
Hunt was plagued throughout his life by periods of depression. Observers often noted that his mood would swing from exhilaration to abject sadness. Today he would probably be diagnosed as Bipolar disorderbi-polar.
William Morris Hunt painted his brother Leavitt Hunt in an oil entitled The Prodigal Son in 1840.
Annals of Brattleboro, 1681–1895, Mary Rogers Cabot, Vol. I, E.L. Hildreth & Co., Brattleboro, 1921
William Morris Hunt Library, Museum of Fine Arts, fenwaylibraries.org
The Harvard Register: A Monthly Periodical, Vols. I & II, Published by Moses King, Cambridge, Mass., 1880
Images of Children from the Collection of the Boston Athenaeum, www.tfaoi.com
Brattleboro, Windham County, Vermont, Early History with Biographical Sketches of Some of Its Citizens, Henry Burnham, Published by D. Leonard, Brattleboro, Vt., 1880
The Twentieth Century Biographical Dictionary of Notable Americans, Vol. VI, Rossiter Johnson, The Biographical Society, Boston, 1904
The Gardiners of Narragansett, Caroline E. Robinson, Daniel Goodwin, Printed for the Editor, Providence, R. I., 1919
Sources
Public Domain This article incorporates text from a publication now in the public domain: Chisholm, Hugh, ed. (1911). Encyclopædia Britannica (11th ed.). Cambridge University Press.
Further reading
The Early Years of the Saturday Club, 1855–1870, Edward Waldo Emerson, Houghton Mifflin Company, Boston, 1918
Exploration, Vision & Influence: The Art World of Brattleboro's Hunt Family, Catalogue, Museum Exhibition, The Bennington Museum, Bennington, Vermont, June 23–December 31, 2005, Paul R. Baker, Sally Webster, David Hanlon, and Stephen Perkins
W. M. Hunt's Talks on Art, William Morris Hunt, Houghton, Osgood & Company, Boston, 1880
Exhibition of the Works of William Morris Hunt, December 20, 1879-January 31, 1880, Museum of Fine Arts Boston, Alfred Mudge & Son, Boston, 1880
William Morris Hunt, artist biography, harrisantiques.com
Art-Life of William Morris Hunt, Helen M. Knowlton, Little, Brown and Company, Boston, 1899
American Artists Abroad and their Inspiration, Stula, Nancy, and Noble, Nancy, Lyman Allyn Art Museum, New London, Connecticut, 2004, 64 pages [4]

----
Fine Art Prints | Greeting Cards | Phone Cases | Lifestyle | Face Masks | Men's , Women' Apparel | Home Decor | jigsaw puzzles | Notebooks | Tapestries | ...
----
Artist
A - B - C - D - E - F - G - H - I - J - K - L - M -
N - O - P - Q - R - S - T - U - V - W - X - Y - Z
Retrieved from "http://en.wikipedia.org/"
All text is available under the terms of the GNU Free Documentation License