Abraham Janssens
Paintings
Heraclitus
Saint Jerome
The Judgement of Midas
Diana and the nymphs surprised in their sleep by satyrs
The Virgin and Child with St. John the Baptist
Philemon and Baucis Entertaing Jupiter and Mercury
The Dead Christ in the Tomb with Two Angels
The Goddess Ceres and the Symbols of Fertility
Sine Cerere et Baccho friget Venus
The lamentation over the dead Christ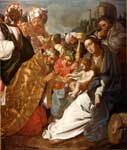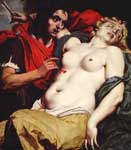 Cephalus Grieving over the Dying Procris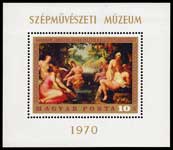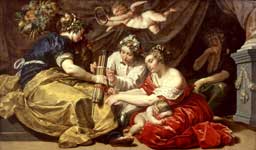 Peace and Plenty binding Arrows of War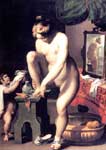 Fine Art Prints | Greeting Cards | iPhone Cases | Tote Bags | Clothing | Lifestyle | Beach ...
Abraham Janssens (or Jansens) van Nuyssen (ca. 1567 – 1632) was a Flemish Baroque painter of principally religious and mythological works.

Life
He was born in Antwerp in 1567. He studied under Jan Snellinck and was registered as a pupil in the local Guild of Saint Luke in 1585. He travelled to Italy between 1597 and 1602. He became a master in the Antwerp Guild in 1602 and in 1607 he became the dean of the Guild.[1] On 1 May 1602 he married Sara Goetkint (died in Antwerp on 7 April 1644) with whom he had 8 children, five of whom were still alive at the time of her death: Maria Anna (the later wife of Jan Brueghel the Younger), Sara, Catharina, Lucretia and Abraham II. He joined in 1610 the Brotherhood of Romanists, a society of humanists and artists who had travelled to Rome. He died in Antwerp.[2]
His pupils included his son Abraham Janssens II, Giovanni di Filippo del Campo, Michele di Giovanni Desubleo, Nicolas Régnier, Gerard Seghers, Theodoor Rombouts and Steven Wils.[2]
Janssens affixed the signature "Janssens van Nuyssen" to several of his pictures. It is believed that 'van Nuyssen' was the family name of his mother and that Janssens added it to his signature to distinguish himself from his namesakes as the family name Janssens was very common in the 17th century.[3]

Work
Mount Olympus
Janssens painted both religious, mythological and allegorical scenes, and occasionally a portrait. His earliest works are still steeped in late 16-th century Mannerism and are characterized by an artificial design and a palette composed of dispersing colours. His work Scaldis and Antwerpia of 1609 shows a development towards a classic academic beauty, harmonious in form and with an unbroken palette. The work shows the influence of Caravaggio, whose expressive power derived from the use of strong contrasts of light and shadow (chiaroscuro), as well as of the School of Bologna, characterized by a noble classicism. This work was made when Janssens' artistic powers reached their peak. His later work is less convincing and, like that of all his other colleagues in Antwerp, became dominated by Rubens and the free style of his pictorial technique.[1]
Until the return of Rubens to Antwerp in 1608, Janssens was considered perhaps the best historical painter of his time. However, due to Rubens' dominance of the Antwerp market for large altar pieces, Janssens had to find commissions for large monumental works from provincial patrons.[4] The styles of the two artists are not unalike. In correctness of drawing Janssens excelled his great contemporary; in bold composition and in treatment of the nude he equalled him. But in faculty of colour and in general freedom of disposition and touch he fell far short.[5]

References
Diana and the nymphs surprised in their sleep by satyrs
Roger A. d'Hulst, Abraham Janssens - Scaldis en Antwerpia at Openbaar Kunstbezit Vlaanderen (Dutch)
Abraham Janssens at the Netherlands Institute for Art History (Dutch)
Joost De Geest, 500 chefs-d'oeuvre de l'art belge, Lannoo Uitgeverij, 2006, p227 (French)
Bert Timmermans, Patronen van patronage in het zeventiende-eeuwse Antwerpen: een elite als actor binnen een kunstwereld, Amsterdam University Press, 2008 - Antwerp (Belgium), p. 195 (Dutch)
Chisholm, Hugh, ed. (1911). "Nuyssen, Abraham Janssens (or Jansens) van". Encyclopædia Britannica (11th ed.). Cambridge University Press.

----
Fine Art Prints | Greeting Cards | Phone Cases | Lifestyle | Face Masks | Men's , Women' Apparel | Home Decor | jigsaw puzzles | Notebooks | Tapestries | ...
----
Artist
A - B - C - D - E - F - G - H - I - J - K - L - M -
N - O - P - Q - R - S - T - U - V - W - X - Y - Z
Retrieved from "http://en.wikipedia.org/"
All text is available under the terms of the GNU Free Documentation License