Leon Kroll
Paintings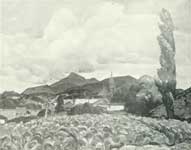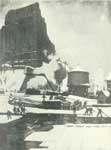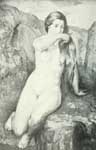 Leon Kroll (December 6, 1884 – October 25, 1974)[1] was an American painter and lithographer. Known as a figurative artist, Life Magazine described him as "the dean of U.S. nude painters,"[2] yet he was an exceptional landscape painter and also produced an exceptional body of still life compositions.
Born into a musical family on lower Second Avenue in New York City, Kroll's father was a violinist and his cousin was William Kroll.[3] He studied at the Art Students League of New York under John Henry Twachtman,[4] and at the Académie Julian in Paris with Jean Paul Laurens in the late 1800s.
In 1913 Kroll showed work at the Armory Show.
In addition to his own work, Kroll taught at the Art Students League of New York and the school of the National Academy of Design, where he had his first solo exhibition in 1910, was named as Associate in 1920 and as full Academician in 1927. In 1930, he was elected to the American Academy of Arts and Letters.[5] He was also named Chevalier of the Legion of Honor in 1950. Kroll died in Gloucester, Massachusetts aged 89.[6]
Artist-Writer Jerome Myers in his autobiography Artist In Manhattan said:
Leon Kroll has the eye of a hawk and the heart of a dove, which is to say that he has both intelligence and feeling. What he has given to our art is a matter of public record over more years than either he or I would care to say.
An academician and at the same time a humanitarian, Leon Kroll is a consummate craftsman, always sympathetic towards youthful talent, boldly standing up for the rights of others as well as for his own. His art activities have been prodigious, overlapping several generations. As a teacher and lecturer, he has been foremost in the van of the Woodstock tradition. He was an able president of the Painters, Sculptors and Engravers Society, and is an outstanding member of the National Academy. A fluent performer in many branches of art, his convictions have remained unshaken by the extremists; he has consistently carried his classic banner through the turmoil of modernism. Leon Kroll's success is to be respected. Personally, I have always found him a gallant adversary in argument, an artist who has captured many hearts as well as many prizes.[7]
Among Kroll's major public works are murals at:
the Department of Justice Building, 1935
the Indiana Statehouse, with figures described by critics as "Bolsheviks", 1952
the Worcester Memorial Auditorium, Worcester, Massachusetts. 1938-1942
Shriver Hall at Johns Hopkins University, circa 1953.
References
"Leon Kroll". Social Security Death Index. FamilySearch.org. Retrieved July 29, 2011.
Davis, Kenneth Morton (1993). The Life and Works of Leon Kroll with a Catalogue of His Works. Ann Arbor, Michigan: UMI Dissertation Services. p. 14. OCLC 31484438.
Kroll, Leon (1983). Hale, Nancy; Bowers, Fredson, eds. Leon Kroll: A Spoken Memoir. Charlottesville: University Press for Virginia. p. 2. ISBN 0813909929.
"A Finding Aid to the Leon Kroll Papers, 1905-1974". Archives of American Art. Smithsonian Institution. Retrieved July 29, 2011.
"Deceased Members". American Academy of Arts and Letters. Retrieved July 29, 2011.
"Leon Kroll". Massachusetts Death Index. Ancestry.com. Retrieved July 29, 2011.(subscription required)
Myers, Jerome (1940). Artist in Manhattan. New York: American Artists Group, Inc. OCLC 1969673
Leeds, Valerie Ann. Leon Kroll Revisited. New York: Gerald Peters Gallery, 1998.

----
Fine Art Prints | Greeting Cards | Phone Cases | Lifestyle | Face Masks | Men's , Women' Apparel | Home Decor | jigsaw puzzles | Notebooks | Tapestries | ...
----
Artist
A - B - C - D - E - F - G - H - I - J - K - L - M -
N - O - P - Q - R - S - T - U - V - W - X - Y - Z
Retrieved from "http://en.wikipedia.org/"
All text is available under the terms of the GNU Free Documentation License