Sir Edward John Poynter
Paintings
The Corner of the Villa
Feeding the Sacred Ibis in the Halls of Karnac
Corner of the marketplace
The visit of the Queen of Sheba to King Solomon
Israel in Egypt
Andromeda
Diadumene
Zenobia Captive
Cave of the Storm Nymphs
Helena and Hermia
Cressida
Lesbia and her Sparrow
By Severnside. Bridgnorth
A Moonlight Scene. Venice
Prodigal's Return
Psyche in the Temple of Love
Asterie
Psyche
Feeding the Sacred Ibis in the Halls of Karnac
On Guard in the Time of Pharaohs
Faithful unto Death. Last Days of Pompeii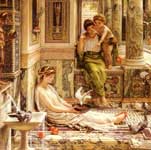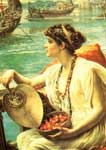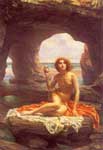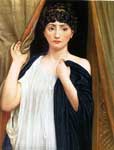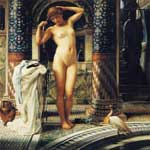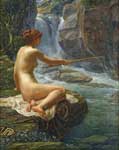 Fishing, the nymph of the stream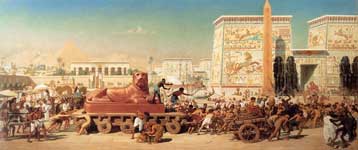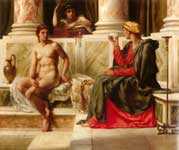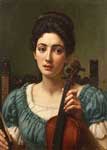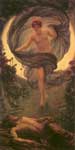 A Visit to Aesculapius
Helen of Troy
The Cave of the Storm Nymphs
Drawings
Minerva
Study of a seated nude for When the World was Young
Minerva
Study for At low Tide
Fine Art Prints | Greeting Cards | Phone Cases | Lifestyle | Face Masks | Men's , Women' Apparel | Home Decor | jigsaw puzzles | Notebooks | Tapestries | ...
Sir Edward John Poynter, 1st Baronet PRA (Paris 20 March 1836 – 26 July 1919 London) was an English painter, designer, and draughtsman who served as President of the Royal Academy. Edward Poynter was the son of the architect Ambrose Poynter. He was born in Paris, though his parents returned to Britain soon after. He was educated at Brighton College and Ipswich School, but left school early for reasons of ill health, spending winters in Madeira and Rome. In 1853 he met Frederick Leighton in Rome, who made a great impression on the 17-year-old Poynter. On his return to London he studied at Leigh's academy in Newman Street and the Royal Academy Schools, before going to Paris to study in the studio of the classicist painter Charles Gleyre where James McNeill Whistler and George du Maurier were fellow-students.
Portrait of Sir Edward J. Poynter PRA, Alphonse Legros
In 1866 Poynter married the famous beauty Agnes MacDonald, daughter of the Rev G B MacDonald of Wolverhampton, and they had three children. Her sister Georgiana married the artist Edward Burne-Jones; her sister Alice was the mother of writer Rudyard Kipling; and her sister Louisa was the mother of three-times-Prime Minister of the United Kingdom Stanley Baldwin.
Career
He became best known for his large historical paintings such as Israel in Egypt (1867; Guildhall Art Gallery, London), followed by St George for England (1869), a mosaic for the Central Lobby of the Palace of Westminster, depicting St George and the Dragon.[1] Visit of the Queen of Sheba (1871–75) and King Solomon (1890). He was admitted as an associate of the Royal Academy in 1869.[2]
Poynter held a number of official posts: he was the first Slade Professor at University College London from 1871 to 1875, principal of the National Art Training School from 1875 to 1881 and director of the National Gallery from 1894 to 1904 (overseeing the opening of the Tate Gallery). He became a Royal Academician in 1876. In 1896, on the death of Sir John Millais, Poynter was elected President of the Royal Academy. He received a knighthood in the same year and an honorary degree from Cambridge University in 1898.[3] He was made a baronet in 1902.
Edward John Poynter, 1860s
It appears from the subjects of his paintings (King Solomon and King Solomon's Temple) and his association with Kipling that he was a Freemason. Prints of his painting The Visit of the Queen of Sheba to King Solomon are to be found in many Masonic Lodges around the world.
Poynter's old school, Brighton College held an exhibition of Poynter's paintings and drawings entitled 'Life at Arms Length' in its Burstow Gallery in November–December 1995.

Bibliography
Ten lectures on art (London: Chapman and Hall, 1880).
Buxton, H. J. Wilmot (co-author). German, Flemish and Dutch painting (Scribner and Welford, 1881).
Head, Percy Head (co-author). Classic and Italian painting (London: S. Low, Marston, Searle, & Rivington, 1890)
References
Jarrold Publishing, Norwich. Palace of Westminster Collection
"The Register, Adelaide, June 27, 1902". Trove. Retrieved 21 August 2013.
"Poynter, Edward John (PNTR898SE)". A Cambridge Alumni Database. University of Cambridge.
Sources
Bell,Malcolm. Drawings of Sir E. J. Poynter ( London: G. Newnes, ltd., 1905).
Sir Edward John, Bart Poynter (1911 Encyclopædia Britannica)
External links
Edward Poynter online (ArtCyclopedia)
Edward Poynter – biography and paintings (artmagick.com)
Edward Poynter – biography and paintings (Art Renewal Center)
Poynter, Edward John, Sir (Dictionary of art historians)
Pears Soap Company & Sir Edward Poynter – "At Low Tide" ("Art of the Print")
Works by Edward Poynter at Project Gutenberg
Works by or about Edward Poynter at Internet Archive

----
Fine Art Prints | Greeting Cards | Phone Cases | Lifestyle | Face Masks | Men's , Women' Apparel | Home Decor | jigsaw puzzles | Notebooks | Tapestries | ...
----
Artist
A - B - C - D - E - F - G - H - I - J - K - L - M -
N - O - P - Q - R - S - T - U - V - W - X - Y - Z
Retrieved from "http://en.wikipedia.org/"
All text is available under the terms of the GNU Free Documentation License