Cornelis de Vos
Paintings
Portrait Of A Young Girl Bust-length In An Embroidered Green Dress White Lace Ruff
Cornelia or Elisabeths Vekemans, daughter of Joris Vekemans and Maria van Ghinderdeuren‎
Self-portrait of the Artist with his Wife Suzanne Cock and their Children
Portrait of Anthony Reyniers and His Family
Fine Art Prints | Greeting Cards | Phone Cases | Lifestyle | Face Masks | Men's , Women' Apparel | Home Decor ...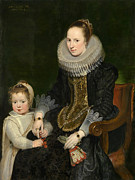 Cornelis de Vos (1584 – 9 May 1651) was a Flemish painter, draughtsman and art dealer. He is best known for his sensitive portraits but also practised in many other genres including history, genre and even still lifes. He was a regular collaborator with Rubens.

Life
He was born in Hulst near Antwerp, now in the Dutch province of Zeeland. Little is known of his childhood. Cornelis and his younger brothers Paul and Jan studied under the little-known painter David Remeeus (1559–1626). De Vos joined the guild of Saint Luke in 1608 at the age of twenty-four, later serving as its dean in 1628. When he became a citizen of Antwerp in 1616 he listed his occupation as an art dealer.
His sister Margaretha married Frans Snyders, while Cornelis himself married Jan Wildens's half-sister Susanna Cock. His pupils included Jan Cossiers, Alexander Daemps and Simon de Vos (to whom he was not related).[1]
De Vos died in Antwerp, where he was buried in the cathedral.[2]

Work
Cornelis painted in various genres. He initially painted mainly portraits and mythological, biblical and history scenes. He also created still lifes and, in the late 1620s, some monumental genre paintings. He used the monogram CDVF.[2]
The four seasons
De Vos was most successful as a painter of individual and group portraits in which he developed his own style. He placed his subjects set within restrained but rich interiors. He his able to achieve a sensitive portrayal of the characters of his sitters and the varied textures of their clothes through the use of an even, bright light. He only commenced painting full-length portraits after van Dyck's return to Antwerp in 1627. In these portraits the figure is typically placed in front of architecture and an open landscape.[3]
His style closely followed that of Anthony van Dyck and, to a lesser extent, Peter Paul Rubens. De Vos worked frequently as a collaborator with Rubens. Around 1617 he painted two panels, the Nativity and the Presentation in the Temple, that were part of a series of paintings on the theme of the "Mystery of the Rosary Cycle" in which other local painters, including Rubens (who oversaw the project), van Dyck, and Jacob Jordaens participated. De Vos' two paintings joined the 13 paintings made by these other painters in Antwerp's church of St. Paul where they were to flank Caravaggio's Madonna of the Rosary, which was placed in the church in 1620.[4]

In 1635, De Vos assisted Rubens on the joyous entry of Cardinal-Infante Ferdinand, a project for which he painted twelve royal portraits to Rubens's designs. Between 1636 and 1638 he worked again for Rubens, along with his brother Paul in decorating the Torre de la Parada, a hunting lodge of Philip IV of Spain near Madrid. While de Vos' collaborations with Rubens on these projects in the 1630s appear not to have influenced his style, they did influence his technique.[1]
Cornelis often collaborated with colleagues as was common in Antwerp at the time: he painted the staffage in still lifes by Frans Snyders and in return Snyders and his brother Paul painted the fruit, animals, silver plate and armour in his own work. Jan Wildens assisted with the landscapes in many of his works.[1]
References
Katlijne Van der Stighelen and Arnout Balis. "Vos, de (i)." Grove Art Online. Oxford Art Online. Oxford University Press. Web. 20 Feb. 2015
Cornelis de Vos at the Netherlands Institute for Art History (Dutch)
Ford-Wille, Clare. "Vos, Cornelis de." The Oxford Companion to Western Art. Ed. Hugh Brigstocke. Oxford Art Online. Oxford University Press. Web. 20 Feb. 2015.
Sirjacobs, Raymond. Antwerpen Sint-Pauluskerk Rubens en de mysteries van de rozenkrans. Antwerp: Sint-Paulusvrienden, 2004
Further Reading
Liedtke , Walter A. (1984). Flemish paintings in the Metropolitan Museum of Art. New York: The Metropolitan Museum of Art. ISBN 0870993569. (p.272-280, v.1; plates 106-109, v.2).

----
Fine Art Prints | Greeting Cards | Phone Cases | Lifestyle | Face Masks | Men's , Women' Apparel | Home Decor | jigsaw puzzles | Notebooks | Tapestries | ...
----
Artist
A - B - C - D - E - F - G - H - I - J - K - L - M -
N - O - P - Q - R - S - T - U - V - W - X - Y - Z
Retrieved from "http://en.wikipedia.org/"
All text is available under the terms of the GNU Free Documentation License