Bartholomeus Spranger / Bartholomäus Spranger
Paintings
Venus and Mars warned by Mercury
Minerva Victorious over Ignorance
Hercules, Deianira and the Centaur Nessus
Epitaph of the goldsmith Müller, detail
Epitaph of the goldsmith Müller, detail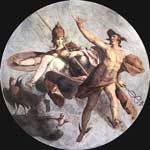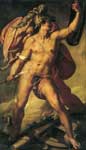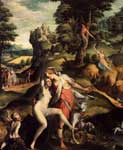 Venus and Adonis , Rijksmuseum
Fine Art Prints | Greeting Cards | Phone Cases | Lifestyle | Face Masks | Men's , Women' Apparel | Home Decor ...
Bartholomeus Spranger (name variations: Bartholomaeus or Bartholomäus and Spraneers;[1] 21 March 1546 in Antwerp – 1611 in Prague) was a Flemish painter, draughtsman, sculptor and etcher who became a painter to the imperial court in Prague. His unique style combining elements of Netherlandish painting and Italian influences, in particular the Roman Mannerists, had an important influence on other artists in Prague and beyond.[2]
Biography
He trained with Cornelis van Dalem, Jan Mandijn, and Frans Mostaert, all three landscape painters. He further copied prints of Frans Floris and Parmigianino.[2] He traveled to Paris on 1 March 1565 where he worked for six weeks in the workshop of Marc Duval. He then travelled on to Italy, where he first stayed for eight months in Milan. He then worked for three months in Parma as an assistant to Bernardino Gatti on the painting of the dome of the Santa Maria della Steccata.
He worked on wall paintings in various churches. In Rome he became, like El Greco, a protégé of Giulio Clovio. Here he also met Karel van Mander who would later include a biography of Spranger in the Schilder-boeck. Pope Pius V appointed him court painter in 1570. He was summoned to Vienna by Maximilian II, Holy Roman Emperor, who died soon after his arrival in 1576. But his successor Rudolf II was even more keen to employ him, and in 1581 he was appointed court painter and also valet de chambre, the court having moved its seat to Prague, where he stayed until his death there in 1611, shortly before Rudolf was deposed. Rudolf arranged a wealthy marriage for him, and his house was a centre for artists in Prague.

Work
Venus and Adonis
Spranger's paintings for Rudolf mostly depict mythological nudes in various complex poses, with some connection to the Emperor's esoteric Late-Renaissance philosophical ideas. His paintings are the most characteristic of the final phase of Northern Mannerism. By far the best collection is in Vienna. His drawings have great energy, in a very free technique.[3]
Spranger also worked as a sculptor. He may have a acquired his knowledge of sculpture through his collaboration with the Flemish sculptor Hans Mont, who also worked at the Prague court. After Mont left the Prague court, Spranger appears to have worked intermittently as a sculptor for the emperor, at least until Adriaen de Vries arrived in Prague in 1601. A terracotta relief of the 'Body of Christ Supported by an Angel' (Courtauld Gallery) is by his hand. The Walters Museum holds a bronze 'Achelous and Deianeira' which is attributed to him. There is no record of any sculpture by Spranger in Rudolf II's collection.[2]
Aegidius Sadeler, who lived in his house in Prague for some time, and Hendrik Goltzius made engravings of his paintings, spreading Spranger's fame around Europe.

Collections
Much the best collection is in the Kunsthistorisches Museum in Vienna, mostly from the Imperial collection. Most museum print rooms will have examples of his prints. There are 3 oil paintings by Spranger in the Blanton Art Museum in Austin, Texas (Saint Catherine, Saint Ursula, Saint Margaret).
References
Bartholomeus Spranger at the Netherlands Institute for Art History (Dutch)
C. Höper. "Spranger, Bartholomäus." Grove Art Online. Oxford Art Online. Oxford University Press. Web. 20 May. 2014
Drawing by Spranger at the Met
----
Fine Art Prints | Greeting Cards | Phone Cases | Lifestyle | Face Masks | Men's , Women' Apparel | Home Decor ...
----
Artist
A - B - C - D - E - F - G - H - I - J - K - L - M -
N - O - P - Q - R - S - T - U - V - W - X - Y - Z
Retrieved from "http://en.wikipedia.org/"
All text is available under the terms of the GNU Free Documentation License