Albrecht Adam

Paintings
The Battle of Papa on 12 June 1809
Italian Corp of Eugene Beauharnais Crossing the Niemen on 30 June 1812
Battle of Smolensk on 18 August 1812
Battle of Moscow on 7 September 1812
Countess Caroline of Waldbott-Bassenheim, born Oettingen-Wallerstein on horseback on a hill at Leutstetten; in the background Castle Leutstetten
First lieutenant Theodor v. Klein (1803-1863 Zehlendorf Geltschberg) in the uniform of the Imperial Dragoon Regiment Nr. 3 on an exercise ride, at the back, an adhesive label with the designation of the person,
Napoleon I in 1809 before Regensburg
Ownerless Horse on the Battlefield at Moshaisk in 1812
Cavalcade before Schloss Heiligenberg
General von Bellegarde and his officers cbserving a battle
Italian troops on Mrągowo market
The defense of the blockhouse of Malborgeth and the heroic commander of the crew k.k. Captain Friedrich Hensel on 17 May 1809
Field Marshal Radetzky and his staff at the battle of Novara on March 23, 1849
Rest of the peasants at the field
The Battle of the Moskva River at Borodino on September 7, 1812
Soldiers Resting in a Village, A Cavalry Officer Holding an Austrian Banner
Battle at Borodino on 7 September 1812
Battle of Ostrovno, 26 July 1812
Battle of Smolensk on 18 August 1812
Battle of Smolensk on 18 August 1812
The crossing of the Dniepr by Napoleon's Grande Armée
Italian Corp of Eugene Beauharnais Crossing the Niemen on 30 June 1812
Interior of the Al-Aksa mosque, Jerusalem
Nach der Schlacht bei Wagram, 6. Juli 1809
Napoleon and his Troops at Beshenkovichi 24th July 1812
The wounded General Jean Rapp in the battle of Borodino
The French in the vicinity of Zvenigorod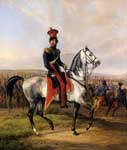 Alexander, Duke of Württemberg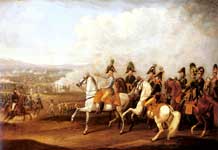 Austrian Staff Officers Watching The Progress Of Battle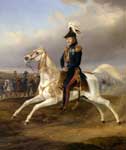 King William I of Württemberg on Horseback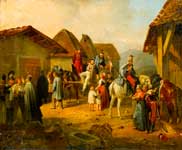 Soldiers Resting in a Village, A Cavalry Officer Holding an Austrian Banner
Albrecht Adam (16 April 1786 – 28 August 1862) was a German painter of battles and horses. orn in Nördlingen, he began an apprenticeship as a confectioner and went in 1803 to Nuremberg to begin his training. However, influenced by the director of the Academy of Fine Arts of Nuremberg and later by Johann Rugendas, he turned towards painting – mainly battlefields and horses. After participating in the Austrian campaign of 1809, he stayed for a time in Vienna, where he drew the attention of Napoleon's stepson Eugène de Beauharnais and was appointed his court painter. Most of Adam's subsequent works deal with Napoleon's Russian campaign, during which he was attached to the Bavarian contingent as a war artist. In addition to his title as court painter, he was given an officer's rank.[2] Among other works, he painted a diary of the campaign in 83 scenes.
In 1815, Adam moved to Munich, where he was occupied by the emperors and kings of Austria and Bavaria.[1] His studio in Munich was frequently visited by Theodor Horschelt, who later became well known for his paintings of the Russian Caucasian War.
He worked until a great age, recording battles and portraying horses, even though in his late works he was supported by the help of his sons, Benno, Eugen and Franz.[1]
It is traced, that he lived at Sing Straße 13 in Munich around 1850.[4] Adam died in Munich in 1862.[1][2]

References
Schmidt, W. (1875). "Adam: Malerfamilie". Allgemeine Deutsche Biographie (in German) 1. Duncker & Humblot. pp. 44–45.
Bryan, Michael (1903). "Adam, Albrecht". Bryan's dictionary of painters and engravers 1. G. Bell and Sons. p. 5.
Rothenburg, Gunther E. (1999). The Napoleonic Wars. Cassell's History of Warfare. Cassell & Co. p. 161. ISBN 0-304-35267-5.
Maucher, Paul. "Alphabetic register of house owners 1849–1851" (PDF). p. 1.
---
Fine Art Prints | Greeting Cards | Phone Cases | Lifestyle | Face Masks | Men's , Women' Apparel | Home Decor | jigsaw puzzles | Notebooks | Tapestries | ...
---
Artist
A - B - C - D - E - F - G - H - I - J - K - L - M -
N - O - P - Q - R - S - T - U - V - W - X - Y - Z
Retrieved from "http://en.wikipedia.org/"
All text is available under the terms of the GNU Free Documentation License