.
Ο Ιωάννης Λανφράνκο ή Τζιοβάνι Λανφράνκο (Giovanni Lanfranco) ήταν Ιταλός ζωγράφος (1582-1647).
Moses And The Messengers From Canaan
Elijah Receiving Bread From The Widow Of Zarephath
Banquet with a Gladiatorial Contest
Naumachia . Gladiatorial naval battle in ancient Rome
The funeral of the Roman Emperor
The ceremonial sacrifice of the Roman Emperor
Venus Playing the Harp (Allegory of Music)
Coronation of the Virgin with St Augustine and St William of Aquitaine
The Virgin and Child Appearing to Sts Anthony Abbot and James the Greater
Ecstasy of St Margaret of Cortona
Norandino and Lucina Discovered by the Ogre
Crucifixion (detail)
Alexander the great and Philip of Acarnania
The Adoration of the Shepherds (The Night)
The Prophet Elijah in the desert by an angel awakened
The Madonna and Child with the Infant Saint John the Baptist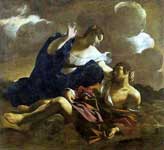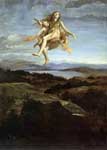 Mary Magdalen Raised by Angels
Moses and the Messengers from Canaan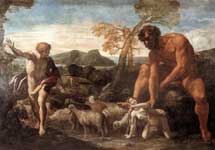 Norandino and Lucina Discovered by the Ogre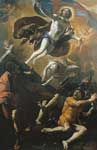 The arrival of citrus fruits in the Gulf of Naples
Ο Λανφράνκο υπήρξε πολύ παραγωγικός σε ζωγραφικά έργα και θαυμάζονταν για την ευχέρειά του αυτή. Άντλησε τα θέματά του κυρίως από τη χριστιανική θρησκεία τα οποία απέδωσε κυρίως σε τοιχογραφίες. Από τα πλέον γνωστότερα των έργων του είναι: «Η Γέννηση του Χριστού», «Οι Άγγελοι», «Ο Άγιος Λουκάς», «Η Θυσία του Αβραάμ» και από τα κινητά έργα του, πίνακες,: «Οι Μάγοι», «Ο Άγιος Πέτρος προσευχόμενος», κ.ά.
Πηγές
* Νεώτερον Εγκυκλοπαιδικόν Λεξικόν Ηλίου τόμ.12ος σελ.88.

Από τη ελληνική Βικιπαίδεια http://el.wikipedia.org . Όλα τα κείμενα είναι διαθέσιμα υπό την GNU Free Documentation License