Suzanne Valadon

Paintings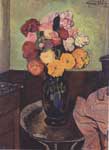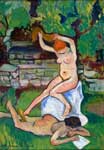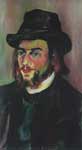 Suzanne Valadon (23 September 1865 – 7 April 1938) was a French painter born Marie-Clémentine Valadon at Bessines-sur-Gartempe, Haute-Vienne, France. In 1894, Valadon became the first woman painter admitted to the Société Nationale des Beaux-Arts. She was also the mother of painter Maurice Utrillo. The subjects of her drawings and paintings included mostly female nudes, female portraits, still lifes, and landscapes. She never attended the academy and was never confined within a tradition.[1] Valadon spent nearly 40 years of her life as an artist.[2]
Career
Dance at Bougival, by Renoir; the female dancer is Valadon.
The daughter of an unmarried laundress, Valadon began working at age 11 after a short attendance to primary school and worked in a variety of areas including a milliner's workshop, a factory making funeral wreaths, a market selling vegetables, a waitress in a restaurant, and then finally in the circus.[3] Valadon became a circus acrobat at the age of fifteen, but a year later, a fall from a trapeze ended that career. In the Montmartre quarter of Paris, she pursued her interest in art, first working as a model for artists, observing and learning their techniques, before becoming a noted painter herself.[4]

Model
Valadon debuted as a model in 1880 in Montmartre at age 15.[5] She modeled for over 10 years for many different artists including the following: Pierre-Cécile Puvis de Chavannes, Théophile Steinlen, Pierre-Auguste Renoir, and Henri de Toulouse-Lautrec.[2] She modeled under the name "Maria" and was thought to have had many affairs with the artists she modeled for. She was considered seductive, provocative, comely, voluptuous, and flighty as a model. Toulouse-Lautrec nicknamed her "Suzanne" after the biblical story of Susanna and the Elders.[6] She was considered a very focused, ambitious, rebellious, determined, self-confident, and passionate woman.[7] She was also known to be good friends with Edgar Degas.[2] In the early 1890s she befriended Degas who, impressed with her bold line drawings and fine paintings, purchased her work and encouraged her efforts. She remained one of Degas's closest friends until his death.
The most recognizable image of Valadon would be in Renoir's Dance at Bougival from 1883, the same year that she posed for City Dance.[8] In 1885, Renoir painted her portrait again as Girl Braiding Her Hair. Another of his portraits of her in 1885, Suzanne Valadon, is of her head and shoulders in profile. Valadon frequented the bars and taverns of Paris along with her fellow painters, and she was Toulouse-Lautrec's subject in his oil painting The Hangover.[9]

Artist
It is commonly believed that Valadon taught herself how to draw at the age of nine.[10] Valadon painted still lifes, portraits, flowers, and landscapes that are noted for their strong composition and vibrant colors. She was, however, best known for her candid female nudes, particularly because it was unusual in the nineteenth century for a woman artist to make female nudes her primary subject matter.[11]
Accomplishments
Her second portrait was created in 1883 at age 18 before she gave birth to her son.[12] She produced mostly drawings from 1883-1893 and began painting in 1892. Her first models were her family members, often her son, mother, or niece.[13] Her first female nude was also made in 1892.[14] Her first exhibitions, held in the early 1890s, consisted mostly of portraits, for example of Erik Satie with whom she had an affair 1893. She regularly showed work at the Galerie Bernheim-Jeune in Paris.[15] Valadon's first time in the Salon de la Nationale was in 1894. Degas was notably the first person to buy drawings from her.[16] Degas also taught her the skill of soft-ground etching.[17]
Casting of the Net, 1914, by Suzanne Valadon
In 1896, Valadon became a full-time painter after her marriage to Paul Moussis.[18] She made a shift from drawing to painting during her initial affair with Andre Utter starting in 1909.[19] Her first large oils for the Salon related to sexual pleasure, and they were some of the first examples in painting for the man to be an object of desire by a woman. These notable Salon paintings include Adam et Eve (Adam and Eve) (1909), La joie de vivre (Joy of Living) (1911), Lancement du filet (Casting of the Net) (1914).[20] Valadon produced around 300 drawings and over 450 oil paintings by the end of her life.[19]
Today, some of her works may be seen at the Centre Georges Pompidou in Paris, the Museum of Grenoble, and at the Metropolitan Museum of Art in New York.
Style
She primarily worked with oil paint, oil pencils, pastels, and red chalk; she did not care to use ink or watercolor because these mediums were too fluid for her preference.[21] Valadon's paintings feature rich colors and bold, open brushwork often featuring firm black lines to define and outline her figures.[2] She used hard black lines to emphasize the structure of the body. She also used firm lines in her nudes to emphasize the play of light on curves.[22]
Valadon's self-portraits, portraits, nudes, landscapes, and still lifes remain knowingly detached from trends and aspects of academic art.[23] The subjects of Valadon's paintings often reinvented her masters' themes: women at their toilette, reclining nudes, and interior scenes. Common features of her paintings included bourgeois décor, furniture, living rooms, and washrooms with a tub. Many have suggested a vibrant, emotional sense that emanates from her drawings and paintings as a result from a initmate, familiar observation of these women's bodies. Valadon also emphasized her focus on the importance of composition of her portraits over painting expressive eyes.[21] Her later works, such as Blue Room (1923), are brighter in color and show a new emphasis on decorative backgrounds and patterned materials.[24]
It's thought that her experience as a model and as an artist allowed her to analyze the process that transformed and positioned the body as an object of the gaze within a work of art and influenced her understanding and perspective of women and the female body.[25] Suzanne Valadon has been considered transgressive in her position as a woman painting the nude female body.[26] Her class allowed her to enter the male public domain of art through modeling and then emerged as an artist within her circle of prominent male artists. She resists typical depictions of women via their class and supposed sexuality through her use of unidealized and self-possessed bodies that are not overtly sexualized.[27]
Personal life
Valadon grew up in poverty with her mother and did not know her father. She was known to be quite independent and rebellious. She attended primary school until age 11 when she began to work. In 1883 Valadon gave birth to her 'illegitimate' son, Maurice Utrillo, at the age of 18.[2] Valadon's mother cared for Maurice while she returned to modeling.[7] Valadon's friend Miguel Utrillo would later sign papers recognizing Maurice as his son, although his true paternity is uncertain.[22] Valadon helped to educate herself in art by reading Toulouse-Lautrec's books and observing the artists at work for whom she posed.[1] In 1893, Valadon began a short-lived affair with Erik Satie, moving to a room next to his on the Rue Cortot. Satie became obsessed with her, calling her his Biqui, writing impassioned notes about "her whole being, lovely eyes, gentle hands, and tiny feet", but after six months she left, leaving him devastated.[28] Valadon married stockbroker Paul Moussis in 1895, leading a bourgeois life for 13 years at an apartment in Paris and a house in the outlying region.[21] In 1909, Valadon began an affair with the painter André Utter, age 23 and a friend of her son, divorcing Moussis in 1913.[29] Valadon married Utter in 1914,[18] and he managed her career as well as her son's.[30] Valadon and Utter regularly exhibited work together until the couple divorced in 1934.[30]
Death
Suzanne Valadon died of a stroke[31] on 7 April 1938, at age 72, and was buried in the Cimetière de Saint-Ouen in Paris. Among those in attendance at her funeral were her friends and colleagues André Derain, Pablo Picasso, and Georges Braque.

Novels and plays
A novel based on her life by Elaine Todd Koren was published in 2001, entitled Suzanne: of Love and Art.[32] An earlier novel by Sarah Baylis, entitled Utrillo's Mother, was published first in England and later in the United States. Timberlake Wertenbaker's play The Line (2009) traces the relationship between Valadon and Degas.

Honors
Both an asteroid (6937 Valadon) and a crater on Venus are named in her honor. The small square at the base of the Montmartre funicular in Paris is named Place Suzanne Valadon.
Notes
Warnod 40
Marchesseau 9
Warnod 13
"Suzanne Valadon". National Museum of Women in the Arts. Retrieved December 20, 2012.
Rose 9
Marchesseau 14
Marchesseau 15
Smee, Sebastian. "At MFA, dancing the night away in the arms of Renoir". The Boston Globe. Retrieved April 10, 2013.
"Henri de Toulouse-Lautrec". Harvard Art Museums. Retrieved December 20, 2012.
"Valadon, Suzanne"
Betterton, Rosemary (Spring 1985). "How Do Women Look? The Female Nude in the Work of Suzanne Valadon". Feminist Review 19: 3–24 [4]. doi:10.1057/fr.1985.2.
Warnod 8
Warnod 48, 57
Rose 97
"Suzanne Valadon". Brooklyn Museum of Art. Retrieved December 20, 2012.
Warnod 51
Warnod 55
Oxford Art Online
Marchesseau 17
Marchesseau 18-19
Marchesseau 16
Warnod 48
Marchesseau 9, 11
"Suzanne Valadon". Museum of Modern Art. Retrieved March 7, 2013.
Mathews 415
Mathews 418
Mathews 416, 419, 423
"Suzanne Valadon". Akademiska Föreningen, Lund University. Archived from the original on 3 October 2010. Retrieved 12 June 2010.
Marchesseau 17-18
Jimenez, Jill Berk (2001). Dictionary of Artist's Models. London: Routledge. p. 529.
Warnod 88
[1]
References
Giraudon, Colette. "Valadon, Suzanne." Grove Art Online. Oxford Art Online. Oxford University Press. Web. 24 Sep. 2014. Online http://www.oxfordartonline.com/subscriber/article/grove/art/T087579
Marchesseau, Daniel. Suzanne Valadon, exhibition catalogue, Martigny, Fondation Pierre Gianadda, 1996
Mathews, Patricia. "Returning the Gaze: Diverse Representations of the Nude in the Art of Suzanne Valadon." Art Bulletin 73.3 (September 1991): 415-30. Academic Search Premier. Web.
Rose, June. Suzanne Valadon: The Mistress of Montmartre. New York: St. Martin's, 1999. ISBN 0-312-19921-X
Storm, John. The Valadon Drama. New York: E.P. Dutton, 1958. Online https://archive.org/details/valadondramathel027482mbp
Warnod, Jeanine. Suzanne Valadon. New York: Crown, 1981. Print.

Artist
A - B - C - D - E - F - G - H - I - J - K - L - M -
N - O - P - Q - R - S - T - U - V - W - X - Y - Z
Retrieved from "http://en.wikipedia.org/"
All text is available under the terms of the GNU Free Documentation License