The Small Cowper Madonna. Raphael
1504-1505, oil on wood, 58 × 43 cm
Washington (D. C.), National Gallery of Art
---
Die kleine Cowper-Madonna. Raffael
1504–1505, Öl auf Holz, 58 × 43 cm
Washington (D.C.), National Gallery of Art
----
, Ουάσινγκτον (Περιφέρεια της Κολούμπια),
----
See also : Virgin and Child, Paintings, Drawings
Fine Art Prints | Greeting Cards | Phone Cases | Lifestyle | Face Masks | Men's , Women' Apparel | Home Decor ...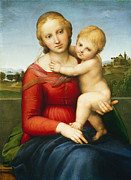 The Small Cowper Madonna is a painting by the Italian High Renaissance artist Raphael, depicting Mary and Child, in a typical Italian countryside.
Story
It is thought that Raphael painted this as a wedding present for someone. Religious artworks, such as the Madonna and Child made popular gifts on special occasions around the time of the Renaissance as people had a new appreciation of art.

Description
Sitting in the center of the work in a bright red dress is the Madonna. She is fair skinned with blonde hair. She sits comfortably on a wooden bench. Across her lap is a dark drapery upon which her right hand delicately sits. Interestingly, there appears to be a sheer translucent ribbon elegantly flowing across the top of her dress and behind her head. The faintest golden halo miraculously surrounds her head. In her left hand she holds the baby Christ, who embraces her with one arm around her back, the other around her neck. He, an undeniably precious child, looks back over his shoulder with a coy smile. Behind them, a beautifully clear and bright day unfolds. Off in the distance two figures appear to be ambling toward a reflective pond, enjoying the green scenery around them. A large and very impressing structure stands at the end of a long path, which one could presume to be a Catholic church. Its dome and other structural elements common of Catholic architecture add to the already omnipresent atmosphere of religious divinity and grace.
See also
Niccolini-Cowper Madonna
External links
The Small Cowper Madonna

Report of 1913 sale to wealthy Americans

Retrieved from "http://en.wikipedia.org/"
All text is available under the terms of the GNU Free Documentation License