Nyilasy Sándor or Nyilassy Sándor

Paintings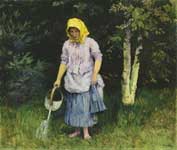 Nyilasy Sándor (Szeged, 2 December 1873 - Szeged, January 6, 1934) Hungarian painter.

Career
In 1891 he began his studies in the School of Decorative Arts in Budapest. In 1893 he became a student at the Munich Academy of Fine Arts, and in 1894 and 1895 Hollósy Simon attended a private school in Munich. In 1896, the Academy Julian in Paris where he met John Thorma . In 1899 he settled in Szeged. From then until his death created in Szeged, Hook and Tapen
Artistic career
At the beginning of his art career briefly Hollósy Simon, Munkácsy and John Towers, and over the years Baia Mare Károly Ferenczy affected, but quickly evolved personal style. Features impressionistic landscapes showing participated in the first four Nagybánya exhibition in Budapest. Szeged avoiding like the surrounding landscape and the people of observer approach developed the art of plein air. In addition to the naturalistic landscapes painted in people's living pictures, in which the villagers are mostly rest on Sunday, celebrating attire, the girl's pink shapes typical folk portrayed. In 1907, pictures of Sunday was awarded the prize Lipótváros Casino. The student also Hollósy Louis Karolyi addition to the first third of the twentieth century was the most well-known painter in Szeged. Almost every year the exhibition featured in the Art Gallery in Budapest, but the first solo exhibition at the age of only forty-seven, in the spring of 1920, organized by the Szeged Hotel in Kass. In 1927, his student, organized an exhibition together with Margit Balogh, also in Szeged. In 1929 he won the National Society of Fine Arts prize. After his death in Szeged a large exhibition was organized . Most of his works are in the Hungarian National Gallery and the Mora Ferenc Museum in Szeged .
His main works
The sower
Returning row
Sunday
bedevil
Portrait of John Reizner
lowland spring
Spring
In the garden
Girls' pink dress
Sources
The Hungarian art history (editor: Essays) Volume 6: Hungarian art 1890-1919 (edited by Lajos Németh), Academic Press, Budapest, 1985, ISBN 9630525445
George Seregélyi: Hungarian painters and graphic designers repositories, Szeged, 1988, ISBN 9635008171
Art encyclopaedia (editor: Essays), Academic Press, 1983, ISBN 9630523604
Révai large lexicon
New Hungarian biographical lexicon IV. (HORSE). Főszerk. Laszlo Marko. Budapest: Hungarian Book Club. 2002, 1112, p. ISBN 9635474148
Artist
A - B - C - D - E - F - G - H - I - J - K - L - M -
N - O - P - Q - R - S - T - U - V - W - X - Y - Z
Retrieved from "http://en.wikipedia.org/"
All text is available under the terms of the GNU Free Documentation License