Marcin Zaleski
Paintings
Interior of the Dominican Church in Krakow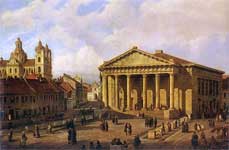 Fine Art Prints | Greeting Cards | iPhone Cases | Tote Bags | Clothing | Lifestyle | Beach ...
Marcin Zaleski (1796 – September 16, 1877) was a Polish painter.
Zaleski was born in Kraków. Among his works was a series of paintings on the November Uprising in Warsaw, to which he was an eyewitness as well as numerous other paintings of the city. His work is featured in Turkey's Adam Mickiewicz Museum and the Gomel Palace, among other locations. He died in Warsaw.
References
Walek, Janusz; Katarzyna Zawadska (1988). A History of Poland in Painting. Interpress. p. 110. ISBN 83-223-2115-5.
Głębocka Piotrowska, Irena (1947). The Art of Poland. Philosophical library. p. 63.
Chmurzyński, Wojciech; Halina Natuniewicz. Adam Mickiewicz Museum in Stamboul.
http://www.palacegomel.by/index.php?newsid=348
Artist
A - B - C - D - E - F - G - H - I - J - K - L - M -
N - O - P - Q - R - S - T - U - V - W - X - Y - Z
Retrieved from "http://en.wikipedia.org/"
All text is available under the terms of the GNU Free Documentation License