Sir John Lavery
Paintings
Ellen Julia Myers, Lady Jackson, wife of John Jackson
Joseph Watson, 1st Lord Manton
A Coast Defence : an 18-pounder anti-aircraft gun, Tyneside
Admiral Sir Cecil Burney, GCMG, KCB, Commander-in-Chief, Coast Of Scotland
Admiral Sir James Startin, KCB, AM, RNR.
Edna May in The Belle of New York
Elswick, 1917 : Messrs Armstrong, Whitworth & Company.
Evelyn Farquhar, wife of Captain Francis Douglas Farquhar (d.1915), daughter of the John Hely-Hutchinson, 5th Earl of Donoughmore

The Fairy Fountain, Glasgow International Exhibition, 1888.
Lady Manton, nee Claire Nickols, wife of Joseph Watson, 1st Baron Manton (d.1922)
Portrait of Miss Harriet Taft Hayward
Le Havre, 1919 : Nurse Billam and Sister Currier
Michael Collins (Love of Ireland)
QMAAC Cookhouse, Rouxmesnil, 1919
R.N.A.S. Roehampton, August 1917
Rear-Admiral Sir Douglas Browning
Richborough, 1917. A Cross-channel Ferry
The Arrival of the German Delegates : "HMS Queen Elizabeth", 15th November 1918. Night.
The Forth Bridge, 1917. Bluejackets Landing
The Ordnance CO's Cookhouse, Henriville, Boulogne, 1919.
The Silver Queen, Wormwood Scrubs
The Women's Emergency Canteen, Gare du Nord, Paris, 1919.
Troops Embarking at Southampton for the Western Front
The Golden Turban (Lady Hazel Lavery)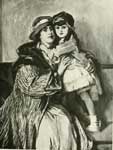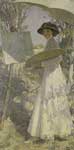 Fine Art Prints | Greeting Cards | iPhone Cases | Tote Bags | Clothing | Lifestyle | Beach ...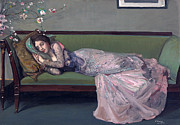 Sir John Lavery (20 March 1856 – 10 January 1941) was an Irish painter best known for his portraits and wartime depictions.

Life and career
Evelyn Farquhar wife of Captain Francis Douglas Farquhar
Belfast-born John Lavery attended Haldane Academy in Glasgow in the 1870s and the Académie Julian in Paris in the early 1880s. He returned to Glasgow and was associated with the Glasgow School. In 1888 he was commissioned to paint the state visit of Queen Victoria to the Glasgow International Exhibition. This launched his career as a society painter and he moved to London soon after. In London he became friendly with James McNeill Whistler and was clearly influenced by him.
Like William Orpen, Lavery was appointed an official artist in the First World War. Ill-health, however, prevented him from travelling to the Western Front. A serious car crash during a Zeppelin bombing raid also kept him from fulfilling this role as war artist. He remained in Britain and mostly painted boats, aeroplanes and airships. During the war years he was a close friend of the Asquith family and spent time with them at their Sutton Courtenay Thames-side residence, painting their portraits and idyllic pictures like Summer on the River (Hugh Lane Gallery).
After the war he was knighted[1] and in 1921 he was elected to the Royal Academy.
During this time, he and his wife, Hazel, were tangentially involved in the Irish War of Independence and the Irish Civil War. They gave the use of their London home to the Irish negotiators during the negotiations leading to the Anglo-Irish Treaty. After Michael Collins was assassinated, Lavery painted Michael Collins, Love of Ireland, now in the Hugh Lane Municipal Gallery. In 1929, Lavery made substantial donations of his work to both The Ulster Museum and the Hugh Lane Municipal Gallery and in the 1930s he returned to Ireland. He received honorary degrees from the University of Dublin and Queen's University of Belfast. He was also made a free man of both Dublin and Belfast. A long-standing member of Glasgow Art Club, Lavery exhibited at the club's annual exhibitions, including its exhibition in 1939 in which his The Lake at Ranelagh was included.[2]

Personal life
Woman with golden turban, Hazel Lavery née Hazel Martyn
Hazel in rose and grey
Lavery's first wife, Kathleen MacDermott, whom he married in 1889, died of tuberculosis in 1891, shortly after the birth of their daughter, Eileen (later Lady Sempill, 1890–1935).
After eight years as a widower, he remarried. In 1909, Lavery married Hazel Martyn (1886–1935), an Irish-American known for her beauty and poise; with her he had one step-daughter, Alice Trudeau (Mrs. Jack McEnery). Hazel Lavery was to figure in more than 400 of her husband's paintings.
The sumptuous The Artist's Studio: Lady Lavery with her Daughter Alice and Step-Daughter Eileen, currently is in the National Gallery of Ireland.
Hazel Lavery modelled for the allegorical figure of Ireland he painted on commission from the Irish government, reproduced on Irish banknotes from 1928 until 1975 and then as a watermark until the introduction of the Euro in 2002. The Laverys' marriage was tempestuous, and Lady Lavery reportedly was unfaithful.[3]
Sir John Lavery died in Rossenarra House, Kilmoganny, Co. Kilkenny on the 10th of January 1941, aged 84, from natural causes, and was interred in Putney Vale Cemetery.

Works in collections
Aberdeen Art Gallery
Birmingham Museum & Art Gallery
The Cecil Higgins Art Gallery
The Crawford Municipal Art Gallery, Cork, including:
The Red Rose (1923)
The Guildhall Art Gallery, London
The Hugh Lane Municipal Gallery, Dublin, including:
Sutton Courtenay, (Summer on the River or The Wharf) (1917)
Japanese Switzerland
The Imperial War Museum
The Irish Museum of Modern Art (IMMA)
Miss Flora Lion in Her Oriental Costume Deaccessioned 2000
The Laing Art Gallery
The National Gallery of Ireland, Dublin
Rothe House, Kilkenny
National Museum of Serbia, Belgrade
The Tate Gallery, London, including:
The Glasgow Exhibition 1888 (1888)
The Chess Player (1929)
The Ulster Museum, Belfast
The Walker Art Gallery
See also
List of Irish artists
Anna Pavlova
References
"New Year Honours. The Official Lists., New Peers And Baronets., Long Roll Of Soldiers (transcription)". London, UK: The Times. Tuesday, January 1, 1918; Issue 41675. p. 8; col B. Retrieved 24 December 2008. Check date values in: |date= (help)
"The Glasgow Herald – Google News Archive Search". google.com.
Tallant, Nicola (16 July 2006). "Collins didn't have affair with Lady Lavery: claim". Irish Independent. Retrieved 23 January 2011.
Sinéad McCoole, "Hazel: A Life of Lady Lavery, 1880–1935", Lilliput Press, 1997. ISBN 1-874675-84-8
Anne Millar Stewart (2003), "Lavery, Sir John" in Brian Lalor (Ed.) The Encyclopedia of Ireland. Dublin: Gill & Macmillan. ISBN 0-7171-3000-2
Sinéad McCoole (2003), "Lavery, Hazel, Lady" in Brian Lalor (Ed.) The Encyclopedia of Ireland. Dublin: Gill & Macmillan. ISBN 0-7171-3000-2

Artist
A - B - C - D - E - F - G - H - I - J - K - L - M -
N - O - P - Q - R - S - T - U - V - W - X - Y - Z