Johann Bockhorst or Jan Boeckhorst
Paintings
Achilles among the daughters of Lycomedes
Alexander the Great Crowns Roxana
Peasants on the Way to the Market
Allegory of Africa (from the Continents Cycle)
The Triumphant Christ Forgiving Repentant Sinners
The martyrdom of St. Maurice and his companions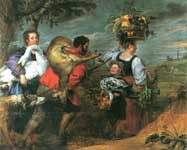 Peasants on the Way to the Market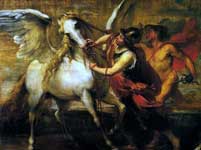 Fine Art Prints | Greeting Cards | Phone Cases | Lifestyle | Face Masks | Men's , Women' Apparel | Home Decor ...
Jan Boeckhorst[1] (c. 1604 – 21 April 1668), was a German-born Flemish Baroque painter whose style was heavily influenced by Peter Paul Rubens, Anthony van Dyck and Jacob Jordaens.
Life
Born in Westphalia, in either Münster or Rees, Boeckhorst moved to Antwerp around 1626 where he was a pupil or assistant of Jordaens and Rubens.[2] He became a master in the Antwerp Guild of Saint Luke in 1633-134. He had a close relationship with Rubens and his studio. He finished a number of paintings designed by Rubens and assisted with large commissions such as the paintings for the joyous entry of Cardinal-Infante Ferdinand in 1635 and for the hunting lodge of the Spanish king, the Torre de la Parada.
He traveled to Italy in 1635. In Rome he joined the circle of Dutch and Flemish artists in Rome known as the Bentvueghels. It was the custom among the Bentvueghels to adopt a nickname. Boeckhorst's nickname was Lange Jan (Tall John). The date of his return to Antwerp is not known with certainty and estimates vary from 1639 to 1649.[3]
Work

Ulysses discovers Achilles dressed up as a girl, after 1650
As was common practice among Antwerp painters, Boeckhorst often collaborated as a figure painter in landscapes and still lifes by Jan Wildens and Frans Snyders. He occasionally painted lively group portraits.[2] Some of his large group portraits, such as the Portrait of a Family (Alte Pinakothek, Munich), are in the style of Cornelis de Vos but with more liveliness and spontaneity.[2]
Cornelis de Bie, in his Gulden Cabinet der Edel Vry Schilderconst (The Golden Cabinet of the Honourable Free Art of Painting; 1662), notes that Boeckhorst was a student of Jordaens. Works in that master's style include large genre paintings of the 1640s such as Peasants going to Market (Antwerp, Rubenshuis), which also acts as an allegory of the four elements.[4]
His later works from the 1650s and 1660s include numerous altarpieces for churches throughout Flanders and designs of cartoons for tapestries. The expressiveness of Van Dyck's figures and use of colors, such as in Ulysses discovers Achilles dressed up as a girl (Alte Pinakothek, Munich), is also noticeable in works from this period.[5]
References
Alternative names: Johan Boekhorst, Johan Boeckhorst, Johann Boeckhorst, Johann Bockhorst, nicknames: Lange Jan, Langhiano and Langian
Hans Vlieghe. "Boeckhorst, Jan." Grove Art Online. Oxford Art Online. Oxford University Press. Web. 1 Oct. 2014
Jan Boeckhorst at the Netherlands Institute for Art History (Dutch)
Vlieghe (1998); pp. 76; 171.
Vlieghe (1998), pp. 95–97.
Sources
Galen, Maria (2012). Johann Boeckhorst: Gemälde und Zeichnungen. Hamburg: Baar. (catalogue raisonné)
Vlieghe, Hans (1998). Flemish art and architecture, 1585-1700. Pelican history of art. New Haven: Yale University Press. ISBN 0-300-07038-1
Further Reading
Liedtke , Walter A. (1984). Flemish paintings in the Metropolitan Museum of Art. New York: The Metropolitan Museum of Art. ISBN 0870993569. (see index).
----
Fine Art Prints | Greeting Cards | Phone Cases | Lifestyle | Face Masks | Men's , Women' Apparel | Home Decor | jigsaw puzzles | Notebooks | Tapestries | ...
----
Artist
A - B - C - D - E - F - G - H - I - J - K - L - M -
N - O - P - Q - R - S - T - U - V - W - X - Y - Z
Retrieved from "http://en.wikipedia.org/"
All text is available under the terms of the GNU Free Documentation License