Ippolito Caffi
Paintings

Rome A View Of Saint Peter's Basilica And Square With Crowds Awaiting A Papal Audience
Venice A Nocturnal View Of Piazza San Marco With The Ducal Palace
The Interior Of The Colosseum Illuminated By Fireworks
Venice A View Of The City Under Snow With The Church Of The Salute
A Caravan Fleeing From A Desert Simoom Near The Sphinx
Saint Peter's Square In Rome At Moonlight
The Firework Windmill In Castel Sant'angelo
View of the Churches Maria dei Miracole and Santa Maria Nova in Venice
The arrival of Emperor Franz Joseph and Empress Elisabeth of Austria in Venice in 1856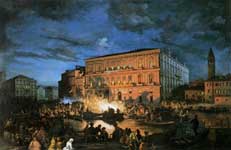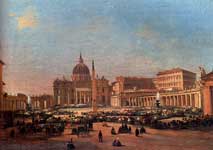 St. Peter's and the Vatican Palace, Rome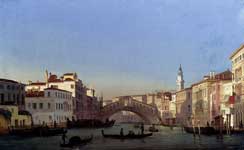 Ippolito Caffi (1809–1866) was an Italian painter of architectural subjects and seascapes or urban vedute.
He was born at Belluno. His first works were produced at the Academy of Fine Arts of Venice. By 1830, he had won awards for his vedute at the Academy. He subsequently moved to Rome, made some reputation by his treatise on perspective, as well as by his investigations on Roman archaeology. In 1843 he visited Greece and the East (Athens, Constantinople, Syria, Egypt, and Malta). The first work of his that created a sensation was Carnival at Venice. This was exhibited at Paris in 1846, and was admired for its brilliant effects of light. Other works are his Panorama of Rome from Monte Mario, Isthmus of Suez, and Close of the Carnival at Rome. He joined revolutionary movements in Venice in 1848, and had to retire into Piedmont. His aim of commemorating in paint the first Italian naval engagement was frustrated when the Re d' Italia, on which he traveled was destroyed on July 20, 1866, by Austro-Venetian fleet at the battle of Lissa, drowning him along with his comrades.
In 2005-2006, an exhibition on Ippolito Caffi was held in his native Belluno[2]
References
Mostra Caffi, Luci di Mediterraneo.
Mostra Caffi, Luci di Mediterraneo.
Bryan, Michael (1886). Robert Edmund Graves, ed. Dictionary of Painters and Engravers, Biographical and Critical (Volume I: A-K). York St. #4, Covent Garden, London; Original from Fogg Library, Digitized May 18, 2007: George Bell and Sons. p. 208.
Artist
A - B - C - D - E - F - G - H - I - J - K - L - M -
N - O - P - Q - R - S - T - U - V - W - X - Y - Z
Retrieved from "http://en.wikipedia.org/"
All text is available under the terms of the GNU Free Documentation License