Henry Caro-Delvaille
Paintings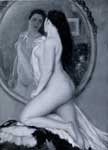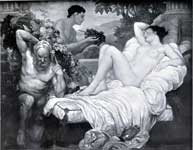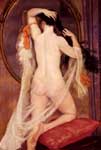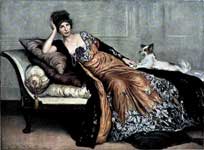 Henry Caro-Delvaille, born Henri Delvaille in Bayonne (Basses-Pyrénées) on July 6, 1876 and died in Sceaux (Hauts-de-Seine) on July 6, 1928, was a French painter and decorator.

Biography
After studying from 1895 to 1897 at the Art School of Bayonne, Henry Caro-Delvaille is a pupil of Leon Bonnat at the School of Fine Arts in Paris. He exhibited for the first time at the Salon of the Society of French Artists in Paris in 1899. He won a third class medal in 1901 for his painting entitled The Manicure. Member of the National Society of Fine Arts from 1903, he became secretary in 1904. In 1905, he won the grand gold medal of the International Exhibition in Munich. The same year, his friend Edmond Rostand confided to him the decoration of his villa of Cambo. He is then known as a portraitist and enjoys many orders. He was knighted the legion of honor in 1910.

The gifts of the earth, decoration for Dr. Semprun's house in Buenos Aires (1912)
From 1917, he traveled to the United States where he settled until 1925. He made many portraits, nudes, landscapes and decorative panels. He has for brothers-in-law the painters Gabriel Roby and Raymond Levi (he thus has for nephew, the future academician Claude Levi-Strauss).
He is buried in the Bayonne Jewish Cemetery.
Works
Phidias or The Greek Genius, Alcan, 1922
sources
David Karel, Dictionary of French-speaking Artists in North America, The Presses of Laval University, 1992 (ISBN 2-7637-7235-8)
Artist
A - B - C - D - E - F - G - H - I - J - K - L - M -
N - O - P - Q - R - S - T - U - V - W - X - Y - Z
Retrieved from "http://en.wikipedia.org/"
All text is available under the terms of the GNU Free Documentation License