Henrietta Emma Ratcliffe Rae
Paintings
Psyche before the throne of Venus
Ellen Terry and Henry Irving in Abelard and Heloise
Springs awakening the snow maidens
Eurydice sinking back to Hades
Fine Art Prints | Greeting Cards | iPhone Cases | Tote Bags | Clothing | Lifestyle | Beach ...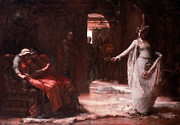 Henrietta Emma Ratcliffe Rae (30 December 1859 – 26 January 1928) was a prominent English painter of the later Victorian era.
Biography
Born in Hammersmith, London, she was the youngest of seven children of a civil servant; her mother was musically talented, a former student of Felix Mendelssohn. An uncle, Charles Rae, was an artist and a student of George Cruikshank. Rae began studying art at age thirteen; she was educated at the Queen Square School of Art, Heatherley's School of Art (she was its first female pupil), and the British Museum. She reportedly had to apply to the Royal Academy schools at least five times before she was accepted — though she eventually gained a seven-year scholarship. Her teachers there included Frank Bernard Dicksee, William Powell Frith, and Sir Lawrence Alma-Tadema; the last of these had the strongest influence on Rae's later work. She became a frequent exhibitor at the annual Royal Academy shows, beginning in 1881.
She gained recognition and success early in her career, specializing in classical, allegorical, and literary subjects, often treated in a grand style and scale; her Psyche at the Throne of Venus (1894) measured 12 feet by 7 feet (305 by 193 cm) and contained 13 figures.[3] Other paintings in the same classical vein include her Ariadne (1885), Eurydice (1886), Zephyrus and Flora (1888), Apollo and Daphne (1895), Diana and Calisto (1899), and Hylas and the Water Nymphs (1910) among many more. Eurydice won medals at exhibitions in Paris and at the World's Columbian Exposition in Chicago.
The Lady with the Lamp popular lithograph reproduction of a painting by Henrietta Rae.
Her Elaine Guarding the Shield of Lancelot (1885) was inspired by a Tennyson poem. She painted historical subjects, like Sir Richard Whittington Dispensing His Charities (1900); and portraits, often of socially prominent sitters like Lord Dufferin, whom she painted in 1901. Rae's 1891 picture of Florence Nightingale, Miss Nightingale at Scutari (1854), was frequently reproduced as The Lady with the Lamp, and became probably her best-known work.
In 1884 she married fellow artist Ernest Normand; they had two children, a son (born 1886) and a daughter (1893). Henrietta Rae kept her maiden name after marriage, under which she'd already begun to establish her reputation — an unusual choice at the time. She and her husband lived in Holland Park with many other artists of the day.[4] The Normands were "adopted as the proteges of the older artists among whom they lived. Their studio was constantly visited by Leighton, Millais, Prinsep, Watts, and others."[5] The attention was not always welcome; in her memoirs, Rae described the sometimes overbearing attitudes and conduct of senior artists. In one case, Prinsep dipped his thumb in cobalt blue paint and marked up one of Rae's pictures; Rae gained her revenge by "accidentally" burning his hat on her stove.[6] In 1893 the Normands moved to Upper Norwood, to a studio custom-built for them by Normand's father.
The Normands traveled to Paris in 1890 to study at the Académie Julian with Jules Joseph Lefebvre and Jean-Joseph Benjamin-Constant. In 1897 Rae organized an exhibition of the work of women artists for the Jubilee of Queen Victoria.
Like some other women artists of her time, Rae was a supporter of feminism and women's suffrage.

Works
Love's young dream (1883)
Elaine guarding the shield of Lancelot (1885)
Ariadne (1885)
Eurydice (1886)
Psyche at the throne of Venus (1894)
Diana and Calisto (1899)
Hylas and the water nymphs (1910)
References
Arthur Fish, Henrietta Rae (Mrs. Ernest Normand), London, Cassell & Co., 1905.
Deborah Cherry, Painting Women: Victorian Women Artists, London, Routledge, 1993.
Meaghan Clarke, Critical Voices: Women and Art Criticism in Britain 1880–1905, London, Ashgate, 2005; p. 99.
Caroline Dakers, The Holland Park Circle: Artists and Victorian Society, New Haven, Yale University Press, 1999.
Fish, p. 47.
Debra Mancoff and D. J. Trela, eds., Victorian Urban Settings: Essays on the Nineteenth-Century City and Its Contexts, London, Taylor & Francis, 1996; p. 71.
Artist
A - B - C - D - E - F - G - H - I - J - K - L - M -
N - O - P - Q - R - S - T - U - V - W - X - Y - Z
Retrieved from "http://en.wikipedia.org/"
All text is available under the terms of the GNU Free Documentation License