Gustave Moreau
Paintings
The Daughters of Thespius
The Park and the Angel of Death
The Apparition
Saint George and the Dragon
Bride of the Night also known as the Song of Songs
The Sacred Elephant
Oedipus and the Sphinx
Diomedes Devoured by his Horses
Trooper and Captives
Orpheus
Perseus and Andromeda
Perseus and Andromeda
Susanna and the Elders
Venus rising from the sea
Sappho in Lefkada
The Unicorn
Galathea
The Education of Achilles, The Centaur
The Poet and the Siren
Les Epreuves
Pieta
The Voices. Hesiod and the Muse
The Chimera
Leda and the Swan
The Young Man And Death
Sappho falling
Jacob and the Angel
Song of Songs
Jason and Medea
The chariot of Apollo or Phoebus-Apollo
Hercules and the Stymphalian Birds
Study for Salome with Beheading of John the Baptist
Christ with Angels
Saint Sebastian
The Environs of Etampes
Galatea
The Infant Moses
Hesiod and the Muses
Hesiod and the Muses
Saint Cecilia. The Angels Announcing her Coming Martyrdom
Apollo Receiving the Shepherds' Offerings
The Sirens
Abduction of the Young Venetian Woman by Cypriot Pirates
The history of humanity, 9 boards
Hercules and the Lernaean Hydra
Woman with the head of Orpheus
Woman with the head of Orpheus, detail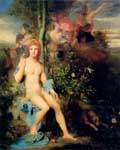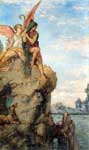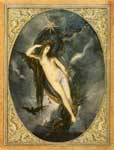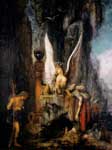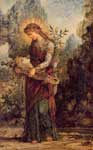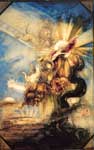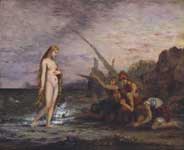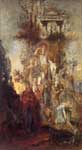 The Muses Leaving Their Father Apollo to go and Enlighten the World
Drawings
The Fairy
Diomedes Devoured by his Horses 2
Horse Race with Jockey
Pittacus the Tyrant in War Costume
Saint Elisabeth of Hungary. The Miracle of the Roses
Youth and Death
Leda and the Swan
Eve
Thracian Girl Carrying the Head of Orpheus
Dead poet borne by centaur
The Centaur Nessus and Deianeira
Fine Art Prints | Greeting Cards | Phone Cases | Lifestyle | Face Masks | Men's , Women' Apparel | Home Decor | jigsaw puzzles | Notebooks | Tapestries | ...
Oedipus and the Sphinx
Gustave Moreau (French: [mɔʁo]; 6 April 1826 – 18 April 1898) was a French Symbolist painter whose main emphasis was the illustration of biblical and mythological figures. As a painter, Moreau appealed to the imaginations of some Symbolist writers and artists.
Moreau was born in Paris. His father, Louis Jean Marie Moreau, was an architect, who recognized his talent. His mother was Adele Pauline des Moutiers. Moreau initially studied under the guidance of François-Édouard Picot and became a friend of Théodore Chassériau, whose work strongly influenced his own. Moreau had a 25-year personal relationship, possibly romantic, with Adelaide-Alexandrine Dureux, a woman whom he drew several times. His first painting was a Pietà which is now located in the cathedral at Angoulême. He showed A Scene from the Song of Songs and The Death of Darius in the Salon of 1853. In 1853 he contributed Athenians with the Minotaur and Moses Putting Off his Sandals within Sight of the Promised Land to the Great Exhibition. Oedipus and the Sphinx, one of his first symbolist paintings, was exhibited at the Salon of 1864. Moreau quickly gained a reputation for eccentricity. One commentator said Moreau's work was "like a pastiche of Mantegna created by a German student who relaxes from his painting by reading Schopenhauer"
Musée National Gustave Moreau, Paris
References
Kaplan, Julius (1974). Gustave Moreau. Little Brown & Company. pp. 7, 55. ISBN 0-8212-0628-1.
"Artchive Gustave Moreau". www.artchive.com. Retrieved October 2014.
Lucie-Smith, Edward. (1972) Symbolist Art. London: Thames & Hudson, p. 63. ISBN 0500201250
Winkfield, Trevor (April 2012). "A Letter to Bryan Osburn from Trevor Winkfield". The Brooklyn Rail.
Artist
A - B - C - D - E - F - G - H - I - J - K - L - M -
N - O - P - Q - R - S - T - U - V - W - X - Y - Z
Retrieved from "http://en.wikipedia.org/"
All text is available under the terms of the GNU Free Documentation License