Giuseppe Bonito
Paintings
Carlos de Bourbon, King of the Two Sicilies
Portrait of Maria Amalia of Saxony as Queen of Naples overlooking the Neapolitan crown
The Turkish Ambassador and His Entourage at the Court of Naples
Portrait of the Composer Niccolò Jommelli
Portrait of Infanta Maria Josefa of Spain (1744-1801)
Portrait of Maria Carolina of Austria (1752-1814)
Portrait of Maria Carolina of Austria and her daughter Maria Theresa of Naples and Sicily
Portrait of three noble children
Portrait of Leopoldo de Gregorio, Marquis of Esquilache
Portrait of a woman with her child
Portrait of Infanta Maria Luisa of Spain (1745-1792)
Maria Amalia of Saxony as Queen of Naples (wife of Carlo VII)
Princess Maria Amalia of Saxony, future Queen of Naples and Spain
Fine Art Prints | Greeting Cards | iPhone Cases | Tote Bags | Clothing | Lifestyle | Beach ...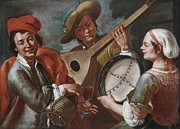 Giuseppe Bonito (11 January 1707 – 9 May 1789) was a Neapolitan painter of the Rococo period. Giuseppe Bonito is known for genre depictions on canvas. Many of Gaspare Traversi's paintings had previously been attributed to Bonito. Bonito was born at Castellammare di Stabia, and, like Traversi, was a student at the large studio of Francesco Solimena. One of his contemporaries there was Gaspare Traversi. Bonito represented urban scenes with folklore details and figures of commedia dell'arte. Between the 1736 and 1742 Bonito worked for the House of Borbon in the royal Palace of Portici. He also painted portraits including one of Maria Amalia of Saxony, wife of the Charles VII, king of Naples and Charles III of Spain. An altarpiece of the Immaculate Conception was painted in 1789 for the chapel of Royal Palace of Caserta. One of his pupils was Angelo Mozzillo. He died in Naples.
References
Museum Network; legend for Bowes Museum piece.
Biography.

Artist
A - B - C - D - E - F - G - H - I - J - K - L - M -
N - O - P - Q - R - S - T - U - V - W - X - Y - Z
Retrieved from "http://en.wikipedia.org/"
All text is available under the terms of the GNU Free Documentation License