Georg Pauli
Paintings
Fine Art Prints | Greeting Cards | iPhone Cases | Tote Bags | Clothing | Lifestyle | Beach ...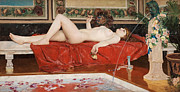 Georg Vilhelm Pauli (2 July 1855 - 28 November 1935) was a Swedish painter.
Pauli was born in Jönköping. He studied at the Royal Academy of Arts in Stockholm in 1871-75 and 1878–79, and studied and worked in France and Italy for several years during the 1870s and 1880s. He studied naturalist in- and outdoor painting, influenced by Bastien-Lepage. In 1887, he married Swedish painter Hanna Hirsch (1864–1940).
Around 1890, he moved towards a symbolist and synthetist style. Having encountered cubism in Paris in 1911, he apprenticed himself to André Lhote and moved towards a cubist style, which he however abandoned in the 1920s. He had a lifelong interest in classical motifs, mythology and symbolism which was often reflected in his paintings.
Beginning in the 1890s Pauli specialized in monumental paintings, decorating walls in the Gothenburg Museum (the current Göteborg City Museum), the new Stockholm Opera House, the Royal Institute of Technology in Stockholm, and many other public institutions. He died in Tullinge, Stockholm County, and is represented by several paintings and many drawings in Nationalmuseum, Stockholm.
References
Hedström, Per: "Pauli, Georg Vilhelm", Svenskt biografiskt lexikon, 28, pp. 742–746.

Artist
A - B - C - D - E - F - G - H - I - J - K - L - M -
N - O - P - Q - R - S - T - U - V - W - X - Y - Z
Retrieved from "http://en.wikipedia.org/"
All text is available under the terms of the GNU Free Documentation License