François Lafon
Paintings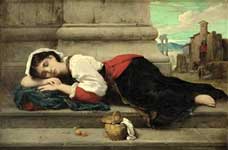 François Lafon, born in 1846, died about 1920, was a French painter.

Biography
François Lafon was the fourth child of the painter Jacques-Émile Lafon 1. He himself had a son, Jean Lafon (1886-1973) 2, also a painter.
A disciple of his father, François Lafon attended a workshop in Alexandre Cabanel's studio.
He debuted at the Salon de Paris in 1875 and exhibited historical scenes, religious compositions, genre scenes and portraits. "His style is slender, graceful and often full of dreamy nostalgia".
Member of the National Society of Fine Arts from 1890, François Lafon received orders from the French State. His works ispreserved in several French museums in Rouen, Saint-Brieuc and Périgueux1,3.

Public Collections
The Martyrdom of Saint Cecilia, 1875, copy after Francia on command of the French State for the museum of Chateauroux [Which?] 4
Saint Étienne, Salon in 1875, cathedral of Bourges5
In Constantinople in the 4th century during the reign of the Empress Eudoxia, Salon of 1895, purchase of the State, not located6
In the country of Erymanthe (landscape of Greece), 1881, Table purchased by the state (act: 1881, 1890) 7
Portrait of Albert Leuillieux, 1881, Archbishop of Chambéry from 1881 to 1893, Museum of Fine Arts of Chambéry8
Portrait of Monsieur Louis Pasteur, Salon of 1884, Museum of Fine Arts of Dole9,10
Saint John of God, before 1885, Museum of Fine Arts of Béziers11
The Marriage Application, before 1886, Pantin City Hall12
Jesus among the Doctors, Museum of Fine Arts of La Rochelle13
The Spring, 1886, museum of Soissons14
Religious Scene, 1888, Bethlehem, St. Catherine's Church15
Bazeilles (1870, Salon de 189316
Saint Martin, 1895, parish church of Saint-Martin d'Abilly. Saint Martin is shown in the dignity of bishop, nimbed, to the right of the Virgin with the child, sitting on a throne in the center of the picture. To the left of the Virgin is St. Joseph, a stick flowered in his hand. The child Jesus is represented in an unconventional way, reversed backwards. In the foreground on the left a little girl kneeling, her hands joined in a gesture of prayer, is presented by an angel. To the right, a beggar sits on the ground beside Saint Martin17
Juvénal des Ursins and his family, 1901, copy of the town hall of Traînel.
Virgin and Child, 1901, altarpiece of the main altar of the church of Notre-Dame-du-Pé (Sarthe) 19
Drawing with the sanguine, before 1903, museum of the fine arts of Rennes20
The Four Seasons surrounded by angels and loves, circa 1907, painted ceiling for the mirror room of the Gray Towers Castle, now Arcadia University, located in Glenside, Pennsylvania21
Responsibilities
Let the little children come to me, painting on plaster, the castle of Asnieres-sur-Seine.
Bibliography
Emmanuel Bénézit, a critical and documentary dictionary of painters, sculptors, draughtsmen and engravers of all time and all countries. Gründ, Paris 1999, volume 8, p. 290.
Notes and references
↑ a, b and c Biographical sketch on the site of the Galerie de Souzy. [Archive]
↑ He paints under the pseudonym of "Keuleyan" or "Keuleyan Lafon" landscapes and marines, especially moonlight and sunsets.
↑ a and b François Lafon [archive] on FADA
↑ Notice on the Arcade database [archive]
↑ Notice on the Arcade database [archive]
↑ Notice on the Arcade database [archive]
↑ Notice on the Arcade database [archive]
↑ "Portrait of Albert Leuillieux" [archive], base Joconde, French Ministry of Culture
↑ Notice on the Arcade database [archive]
↑ "Portrait of Pastor" [archive], base Joconde, French Ministry of Culture
↑ Notice on the Arcade database [archive]
↑ "The request for marriage" [archive], on Topic-topos - The heritage of the communes of France (accessed 15 February 2011)
↑ Notice on the Arcade database [archive]
↑ "Le Printemps" [archive], base Joconde, French Ministry of Culture
↑ (es) Iglesia Sta. Catalina de Belén [archive]
↑ Reproduction at [archive] Washington at the Library of Congress
The Legend of St. Martin in the nineteenth century. Paintings and drawings, Museum of Fine Arts of Tours, 1997, pp. 128-129.
↑ Arcade Database Notice [archive]
↑ Dossier on the Palissy database [archive]
↑ Arcade Database Notice [archive]
↑ (en) Reproduction on the site arcadia.edu [archive]
↑ Dossier of the general inventory of the cultural heritage of Ile-de-France [archive]
Artist
A - B - C - D - E - F - G - H - I - J - K - L - M -
N - O - P - Q - R - S - T - U - V - W - X - Y - Z
Retrieved from "http://en.wikipedia.org/"
All text is available under the terms of the GNU Free Documentation License