Evelyn De Morgan
Paintings
Angel Piping to the Souls in Hell
Demeter Mourning for Persephone
Hero Awaiting the Return of Leander
Life and Thought Have Gone Away
'Music Sweet Music' (Saint Cecilia)
The kingdom of heaven suffereth violence
The passing of the soul at death
The poor man who saved the city
Study For Moonbeams Dipping Into The Ocean
Angel study for Gloria in Excelcis
Draped Figure Study with Accompanying Nude
Queen Eleanor and Fair Rosamund
St Christina giving her Father's Jewels
Study for the Third Standing Winged Angel
Study of Armour for 'Life and Thought Have Gone Away'
The Light Shineth in Darkness and the Darkness Comprehendeth It Not,
The Sleeping Earth and Wakening
Study for the Head of St. Christina
Venus and Cupid on the Seashore
Sleep and Death: The Children of Night
Finished Study for The Thorny Way
Study for 'The Hour Glass': portrait of Mrs. William Morris.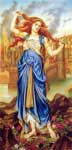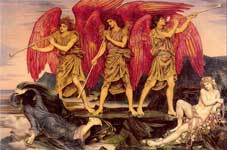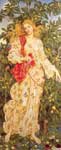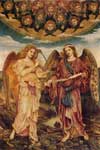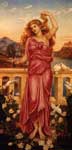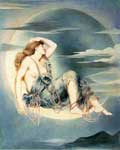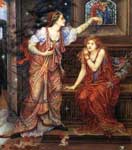 Queen Eleanor and Fair Rosamund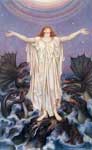 Evelyn De Morgan (30 August 1855 – 2 May 1919) was an English painter whose works were influenced by the style of the Pre-Raphaelite movement.[1] She was a follower of Pre-Raphaelist Burne-Jones.[2] Her paintings exhibit spirituality; use of mythological, biblical, and literary themes; the role of women; light and darkness as metaphors; life and death; and allegories of war.[3]

Biography
Evelyn and William De Morgan
She was born Mary Evelyn Pickering.[1] to upper middle class parents Percival Pickering QC, the Recorder of Pontefract, and Anna Maria Wilhelmina Spencer Stanhope, the sister of the artist John Roddam Spencer Stanhope and a descendant of Coke of Norfolk who was an Earl of Leicester.[4]
Evelyn was educated at home and started drawing lessons when she was 15. On the morning of her seventeenth birthday, Evelyn recorded in her diary, "Art is eternal, but life is short…" "I will make up for it now, I have not a moment to lose." She went on to persuade her parents to let her go to art school. At first they discouraged it, but in 1873 she was enrolled at the Slade School of Art. She was granted a scholarship at Slade which entitled her to three years of financial assistance. However, since the scholarship required that she draw nudes using charcoal and she did not care for this technique, she eventually declined it.[2]
She was also a pupil of her uncle John Roddam Spencer Stanhope, who was a great influence on her works. Beginning in 1875, Evelyn often visited him in Florence where he lived. This also enabled her to study the great artists of the Renaissance; she was particularly fond of the works of Botticelli.[5] This influenced her to move away from the classical subjects favored by the Slade school and to make her own style. She first exhibited in 1877 at the Grosvenor Gallery in London and continued to show her paintings thereafter.[2]
In 1887, she married the ceramicist William De Morgan. They spent their lives together in London.[4] De Morgan, a pacifist, expressed her horror at the First World War and South African War in over fifteen war paintings including The Red Cross[1] and S.O.S.[6] Relative to artistic pursuits, money was unimportant to the De Morgans; any profits from sales of Evelyn's paintings went toward financing William's pottery business and she actively contributed ideas to his ceramics designs.[1] Two years after his death in 1917, she died on 2 May 1919 in London and was buried in Brookwood Cemetery, near Woking, Surrey.[4]

Works
Night and Sleep - Evelyn de Morgan (1878)
Queen Eleanor & Fair Rosamund
Aurora Triumphans
Hope in a Prison of Despair
Ariadne in Naxos, by Evelyn De Morgan, 1877
Tobias and the Angel (1875)
Cadmus and Harmonia (1877)
Ariadne at Naxos (1877)
Aurora Triumphans (1877–1878), Russell-Cotes Museum, Bournemouth.
Night and Sleep (1878)
Goddess of Blossoms & Flowers (1880)
The Grey Sisters (1880–81)
Phosphorus and Hesperus (1882)
By the Waters of Babylon (1882–83)
Sleep and Death, the Children of the Night (1883)
Salutation or The Visitation (1883),
Love's Passing (1883–1884)
Dryad (1884–85)
Luna (1885)
The Sea Maidens (1885–86)
Hope in a Prison of Despair (1887)
The Soul's Prison House (1888)
Love, the Misleader (1889), private collection.
Medea (1889), Williamson Art Gallery, Birkenhead.
Angel of Death (1890), private collection.
The Garden of Opportunity (1892)
Life and Thought Emerging from the Tomb (1893), Walker Art Gallery, Liverpool.
Flora (1894)
Eos (1895), Columbia Museum of Art, Columbia, South Carolina.
The Undiscovered Country, Columbia Museum of Art, Columbia, South Carolina
Lux in Tenebris (1895)
Boreas and Oreithyia (1896)
Earthbound (1897)
Angel of Death (1897), private collection.
Helen of Troy (1898)
Cassandra (1898)
The Valley of Shadows (1899)
The Storm Spirits (1900)
The Poor Man who Saved the City (1901)
The Love Potion (1903)
The Cadence of Autumn (1905)
Queen Eleanor & Fair Rosamund (1905)
Death of a Butterfly (c.1905–10)
Demeter Mourning for Persephone (1906)
Port after Stormy Seas (1905)
The Hour-Glass (1905)
The Prisoner (1907)
Our Lady of Peace (1907)
The Worship of Mammon (1909)
Death of the Dragon (1914)
The Vision (1914), private collection.
The Red Cross (1918)
The Gilded Cage (1919)
Deianera (unknown)
The Kingdom of Heaven Suffereth Violence
References
Rachel S. Gear, 'Morgan, (Mary) Evelyn De (1855–1919)', Oxford Dictionary of National Biography, Oxford University Press, 2004; online edn, May 2006 accessed 7 March 2015
Joellen Secondo. "De Morgan." Grove Art Online. Oxford Art Online. Oxford University Press, accessed March 7, 2015, http://www.oxfordartonline.com/subscriber/article/grove/art/T022113pg2.
Smith, E. L., & De Morgan, M. (2002). Evelyn Pickering De Morgan and the allegorical body. Madison [N.J.] : London ; Cranbury, NJ: Fairleigh Dickinson University Press.
Smith, Elise (2002). Evelyn Pickering De Morgan and the Allegorical Body. Madison, NJ: Fairleigh Dickinson University Press. ISBN 978-0-8386-3883-5.
J. Paul Getty Trust, Union List of Artist Names (ULAN); accessed 7 March 2015
"The De Morgan Foundation". http://www.demorgan.org.uk/S.O.S.
Artist
A - B - C - D - E - F - G - H - I - J - K - L - M -
N - O - P - Q - R - S - T - U - V - W - X - Y - Z
Retrieved from "http://en.wikipedia.org/"
All text is available under the terms of the GNU Free Documentation License