Eugène Isabey
Paintings
Rolandseck, Nonnenwerth, Siebengebirge
Saint Hubert's Day. The Blessing Of The Hounds
The Departure Of Elisabeth Of France For Spain
A Storm off the Normandy Coast
Near Ventnor. Coastal Landscape With Dark Sky
Fine Art Prints | Greeting Cards | iPhone Cases | Tote Bags | Clothing | Lifestyle | Beach ...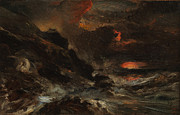 Eugène Louis Gabriel Isabey (22 July 1803 – 27 April 1886) was a French painter, draftsman, and printmaker. Born in Paris, the son of Jean-Baptiste Isabey, a painter as well, Eugène Isabey studied and worked at the Louvre Museum.
Eugène Isabey, Atelier Nadar
Early in his career his paintings consisted of mostly watercolor landscapes. In 1820, he travelled to Normandy and Britain painting land and seascapes.
Isabey journeyed with the French Expedition to Algiers in 1830 as an illustrator. The expedition's paintings sold poorly on the market and encouraged him to switch to narrative and historical painting. He was later selected to become one of Louis-Philippe's court painters.[1]
External links
Eugène Isabey at Art Renewal Center
Eugène Isabey
References
"Eugene Isabey (1803 - 1886) Artwork Images, Exhibitions, Reviews". Wwar.com. Retrieved 2014-03-01.
Artist
A - B - C - D - E - F - G - H - I - J - K - L - M -
N - O - P - Q - R - S - T - U - V - W - X - Y - Z
Retrieved from "http://en.wikipedia.org/"
All text is available under the terms of the GNU Free Documentation License