Eduardo Zamacois y Zabala
Paintings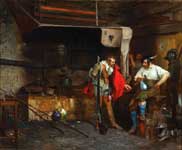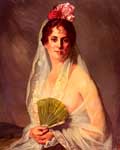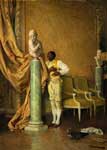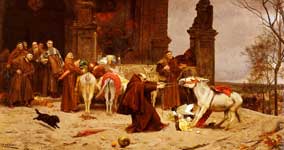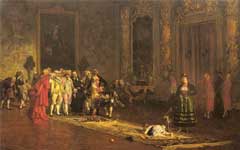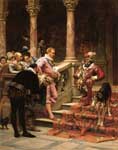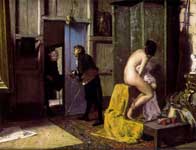 Eduardo Zamacois y Zabala (ca. 1841 – 14 January 1871)[1] was a Spanish academic painter who was born in Bilbao, Spain in 1841 or 1842. He moved to Madrid in 1859, where he enrolled in the Real Academia de Bellas Artes de San Fernando and studied with Federico de Madrazo. In 1860, he studied in Paris with Jean-Louis-Ernest Meissonier (1815-1891). He achieved success at the Paris Salon of 1867 with Buffon au 16e siècle.
Eduardo De Zamacois. Raimundo de Madrazo y Garreta
Zamacois y Zabala is associated with both classicism and anti-clerical art. He is known to have employed the Swiss painter Edouard Castres (1838-1902) as his assistant. He died in Madrid in 1871 at the age of 29.
Notes
[1]p.392
Louis Viardot. An illustrated history of painters of all schools. Sampson, Low, Marston, Searle, & Rivington, 1877. Page 230.
References
Thieme, Ulrich and Felix Becker, Allgemeines Lexikon der bildenden Künstler von der Antike bis zur Gegenwart, reprint of 1907 edition, Leipzig, Veb E.A. Seemann Verlag, 1980-1986.

Artist
A - B - C - D - E - F - G - H - I - J - K - L - M -
N - O - P - Q - R - S - T - U - V - W - X - Y - Z
Retrieved from "http://en.wikipedia.org/"
All text is available under the terms of the GNU Free Documentation License