Dominique Louis Fereol Papety
Paintings
Souli, view of the village and castle Kiaffa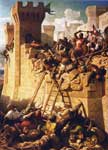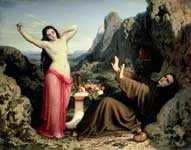 Dominique-Louis-Féréol Papety (12 August 1815 – 19 September 1849) was a French painter.
Biography

Early life
Dominique Papety was born in the Rue de la Longue Capuchin in Marseilles, where his father was a soap-maker. He studied drawing in his birthplace under Augustin Aubert before entering the Paris studio of Léon Cogniet.

Career
Winning the 1836 Prix de Rome, from then until 1841 he stayed at the Villa Medici in Rome, igniting his lifelong interest in Greek and Roman art. He visited Greece in 1846 and 1847, and a large number of his later paintings show similarities with the French Neo-Grec style made popular by Jean-Léon Gérôme and others. His The Dream of Happiness (Compiègne, Musée Antoine Vivenel), drawing inspiration from Charles Fourier's writings, was exhibited at the Paris Salon of 1843.
Death
He died of cholera, aged 34.

Legacy
The Rue Papety in Marseille is named in his honour.[1]
Awards
1836 – first Grand Prix de Rome.
Exhibitions
1843 – Salon des Artistes Français in Paris.
1946 – Athens French School, Centennial School.
1948 – Marseille Cantini Museum: Paintings and Drawings from 1840 to 1940.
Museums
Musée d'Orléans – (reduced replica Entering The Rock.)
British Museum, London – drawings, engravings.
Musée Vivenel in Compiègne, Oise.

External links
[1] Works by Papety at the Wallace Collection
Bibliography
Paul and Claire Pfisterer: Signaturenlexicon, published by Walter de Gruyter 1999 ISBN 3-11-014937-0
Jonathan P. Ribner: The Cult of the law in French art from David to Delacroix, University of California Press Berkeley Los Angeles Oxford 1993
Adrien Blès: Dictionnaire des rues de Marseille, Edition Jeanne Laffitte Adrien Bles
Institut de France: Journal des Savants, Académie des Inscriptions et Belles Lettres.
Collaboration: Youth of the Museums of France in the nineteenth century, Catalogue of the exhibition of the Musée d'Orsay 1994

Artist
A - B - C - D - E - F - G - H - I - J - K - L - M -
N - O - P - Q - R - S - T - U - V - W - X - Y - Z