Art Gallery of South Australia, Adelaide, Australia
Dog chasing a kangaroo, Adam Gustavus Ball
Virgin and Child , William-Adolphe Bouguereau
After dinner, Bernard Hall
Christ and the two Marys , William Holman Hunt
Perseus and Andromeda, Sir Edward Burne-Jones
Priestess of Delphi, John Collier
Rocky valley, Jacques Courtois
Destiny, Thomas Cooper Gotch
The artist's wife Susanna, son Anthony and daughter Susanna, Joseph Highmore
Diana and her nymphs bathing, Angelica Kauffman
Richard Goodricke of Ribston, Yorkshire, Cornelis Ketel
A distant view of Rome across the Tiber, Jacob More
Coronation of the Virgin with Saints Luke, Dominic, and John the Evangelist, Bartolomeo Passarotti
Helena and Hermia, Edward John Poynter
Scene from Greek history. Thales causing the river to flow on both sides of the Lydian army, Salvator Rosa
Scene from Greek history. The deaf-mute son of King Croesus prevents the Persians from killing his father, Salvator Rosa
The Admella wrecked Cape Banks 6th August 1859, James Shaw
Portrait of an Ambassador, Simon Pietersz Verelst
The favourites of Emperor Honorius, John William Waterhouse
Circe Invidiosa, John William Waterhouse
Two studies of the bust of a man turned towards the right, Andrea Sacchi
Fine Art Prints | Greeting Cards | iPhone Cases | Tote Bags | Clothing | Lifestyle | Beach ...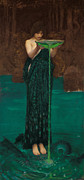 The Art Gallery of South Australia (AGSA), located on the cultural boulevard of North Terrace in Adelaide, is one of three significant visual arts museum in the Australian state of South Australia. It has a collection of over 35,000 works of art, making it, after the National Gallery of Victoria, the second largest state art collection in Australia.[1] It was known as the National Gallery of South Australia until 1967 when the current name was adopted.
The Art Gallery is located adjacent to State Library of South Australia, the South Australian Museum and the University of Adelaide, AGSA is part of Adelaide's North Terrace cultural precinct and had 712,994[2] visitors in the year ending 30 June 2011. As well as its permanent collection, the AGSA displays a number of visiting exhibition every year,[3] and also contributes travelling exhibitions to regional galleries.[4]
History
The gallery was established in 1881 and opened in two rooms of the public library by Prince Albert Victor and Prince George, later George V of Great Britain. The present building dates from 1900 and was extended in 1936 and 1962.[5] Subsequent renovations and a significant extension of the building which opened in 1996 added contemporary display space without compromising the interior of the original Victorian building.
In 2010 Premier Mike Rann negotiated and provided funding for the Saatchi collection to be exhibited at the gallery in 2011, and Tate Britain's blockbuster Turner exhibition to be exhibited in 2013. In June 2011 Premier Rann opened the $3.5 million refurbishment of the gallery's Elder Wing.[6]
Collection
AGSA director Nick Mitzevich addressing Museums Australia conference delegates, September 2012.
The AGSA is renowned for its collections of Australian art, notably Indigenous Australian and colonial art, British art, including a large collection of Pre-Raphaelite works, by artists Edward Burne-Jones, William Holman Hunt, Dante Gabriel Rossetti and Morris & Co., and Japanese art.[7]
It has important works of the Heidelberg school including Tom Roberts' A break away!, Charles Conder's A holiday at Mentone, and Arthur Streeton's Road to Templestowe.[5] The mid-twentieth century is represented by works by Russell Drysdale, Arthur Boyd and Sidney Nolan. European landscape paintings include works by Jacob Isaakszoon van Ruisdael, Salomon van Ruysdael, Joseph Wright of Derby.[7]
British portrait painters are well represented in the collection which includes Robert Peake, Anthony van Dyck, Peter Lely and Thomas Gainsborough.[7]
Other works include paintings by Goya, Francesco Guardi, Pompeo Batoni and Camille Corot.[7] Sculpture includes works by Rodin, Henry Moore, Barbara Hepworth and Jacob Epstein.[7]
Artworks
William Holman Hunt, Christ and the Two Marys, (1847); and The Risen Christ with the Two Marys in the Garden Of Joseph of Aramathea, (1897)
John Collier, Priestess of Delphi, (1891)
John William Waterhouse, Circe Invidiosa, (1892); and The favourites of the Emperor Honorius, (c.1883)
See also
South Australian Living Artists Festival
References
Adelaide: Art Gallery of SA Extensions, Architecture Australia, May/June 1996. Accessed on 2007-05-19.
Annual Report of the Art Gallery of South Australia
AGSA Exhibitions
AGSA Touring Exhibitions 2011
Barbara Cooper and Maureen Matheson, The World Museums Guide, McGraw-Hill, (1973) ISBN 9780070129252
Penny Debelle, "New Era Dawns For Home of Art", Adelaide Now, June 11 2011
AGSA Collection
Artist
A - B - C - D - E - F - G - H - I - J - K - L - M -
N - O - P - Q - R - S - T - U - V - W - X - Y - Z
Retrieved from "http://en.wikipedia.org/"
All text is available under the terms of the GNU Free Documentation License