Anthonie Palamedes, also Anthonie or Antonie Palamedesz
Paintings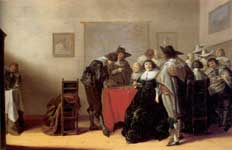 Fine Art Prints | Greeting Cards | iPhone Cases | Tote Bags | Clothing | Lifestyle | Beach ...
Anthonie Palamedes, also Anthonie or Antonie Palamedesz., (1601, Delft - ca 27 November 1673, Amsterdam), was a Dutch Golden Age portrait painter.
Biography
Anthonie Palamedes, Portrait of Woman from Grenoble, Museum of Grenoble, 1671
According to Houbraken his father was a Flemish sculptor who carved semi-precious stone such as Jasper, Porphyry, and Agate into vases and other decorative art.[1] His father had traveled to England in service of King James of Scotland, but after Anthonie's older brother Palamedes was born, the family returned to Delft where the boys grew up.[1] Anthonie survived his brother Palamedes who died young in 1638.[1] He entered the Delft Guild of St. Luke in 1636 and was in 1673 hoofdman or deacon of that guild for the last time.[1]
Palamedes primarily painted portraits and genre works, while his brother Palamedes Palamedesz. I was a battle scene painter. According to the RKD, Anthonie was the oldest brother, taught by Michiel Jansz. van Mierevelt and Hans Jordaens and had joined the Delft Guild of Saint Luke already in 1621.[2] He was married twice, and had four children in total.[3] His pupils were his younger brother Palamedes, his own son Palamedes II, and the painter Ludolf de Jongh.[2] Anthonie died in Amsterdam in 1673.

References
(Dutch) Anthonie Palamedesz Biography in De groote schouburgh der Nederlantsche konstschilders en schilderessen (1718) by Arnold Houbraken, courtesy of the Digital library for Dutch literature
Anthonie Palamedes in the RKD
"Anthonie Palamedes Brief Biography". Retrieved 2010-05-10.
Anthonie Palamedesz on Artnet
External links
Vermeer and The Delft School, a full text exhibition catalog from The Metropolitan Museum of Art, which contains material on Anthonie Palamedes

Artist
A - B - C - D - E - F - G - H - I - J - K - L - M -
N - O - P - Q - R - S - T - U - V - W - X - Y - Z
Retrieved from "http://en.wikipedia.org/"
All text is available under the terms of the GNU Free Documentation License