Andrea Vaccaro
Paintings
Saint Gaetano Refuses Offerings from Count Antonio Caracciolo d'Oppido
Raguel's Blessing of her Daughter Sarah before Leaving Ecbatana with Tobias
Tobias Meets the Archangel Raphael
David with the Head of Goliath
St Stephen Taken to His Martyrdom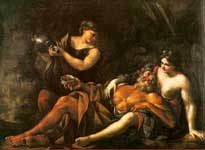 Fine Art Prints | Greeting Cards | iPhone Cases | Tote Bags | Clothing | Lifestyle | Beach ...
Andrea Vaccaro (c. May 8, 1600 – January 18, 1670) was an Italian painter of the Baroque period, active mostly in Naples in a tenebrist style. Born in Naples to a family of painters, including Domenico Antonio and Lorenzo Vaccaro, he first apprenticed with the late-Mannerist painter Girolamo Imparato. His initial paintings soon after 1620 show the influence of Caravaggio and his Neapolitan followers.
He painted a copy of Caravaggio's Flagellation (Galleria Nazionale di Capodimonte); at one time, both the copy and original hung together in San Domenico Maggiore. He also painted a David with the Head of Goliath (Florence) and Saint Sebastian (Capodimonte). Vaccaro was both a friend and competitor of Massimo Stanzioni. After 1630, Vaccaro's tenebrism became more illuminated and less harsh, influenced by more sedate sources such as Guido Reni and Pietro da Cortona. He was patronized by the Spanish Viceroy of Naples, Gaspar de Bracamonte, and by collectors and art dealers such as Gaspar Roomer; and Jan Vandeneyden. One of his pupils was Giuseppe Fattoruso. His son Nicola was also a painter.[1]

References
Grove Encyclopedia entry on Artnet
Short biography.
The Spanish Viceroy, Luca Giordano, & Andrea Vaccaro, Harold E. Wethey. The Burlington Magazine (1967). P678-687.
Catalogue of the Pictures, which Formed the Collection of Joseph Capece Latro, Ancient Archbishop of Taranto, &c. in the Kingdom of Naples: Now Exhibited in the City Dispensary, in White Street, for the Benefit of that Charitable Institution By New York Dispensary, New York, New York Dispensary, Giuseppe Capecelatro Published by s.n., 1835 (page 25).
The documented paintings and life of Andrea Vaccaro (1604-1670), Anna Kiyomi Tuck-Scala, Dissertation, The Pennsylvania State University The Graduate School Department of Art History, 2003 (online) (PDF; 1,5 MB)
De Boni, Filippo (1852). Biografia degli artisti ovvero dizionario della vita e delle opere dei pittori, degli scultori, degli intagliatori, dei tipografi e dei musici di ogni nazione che fiorirono da'tempi più remoti sino á nostri giorni. Seconda Edizione. Venice: Presso Andrea Santini e Figlio. p. 1037. Retrieved 8 February 2015.
Artist
A - B - C - D - E - F - G - H - I - J - K - L - M -
N - O - P - Q - R - S - T - U - V - W - X - Y - Z
Retrieved from "http://en.wikipedia.org/"
All text is available under the terms of the GNU Free Documentation License