Albrecht Kauw
Paintings
Johanna Katharina Steiger, Aged 2
Fine Art Prints | Greeting Cards | iPhone Cases | Tote Bags | Clothing | Lifestyle | Beach ...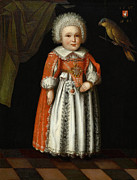 Albrecht Kauw (c. 1616–1681/2) was a Swiss still-life painter, cartographer and a painter of vedute. Kauw was born in Strasbourg, then moved to Bern in 1640. He painted a large number of works for public buildings and for various chateaux. Kauw primarily painted still lifes and landscapes. He trained his son Albrecht Kauw the Younger to also be a painter. He died in Bern.
References
"Albrecht Kauw Brief Biography". Retrieved 2012-07-10.
Artist
A - B - C - D - E - F - G - H - I - J - K - L - M -
N - O - P - Q - R - S - T - U - V - W - X - Y - Z
Retrieved from "http://en.wikipedia.org/"
All text is available under the terms of the GNU Free Documentation License