Adolphe-Felix Cals
Paintings
Still Life With A Cucumber And A Pitcher
The Garden Of The Saint Simeon Farm. Honfleur
The Farm at Saint Simon, Honfleur
Woman and Child in the Orchard
Portrait of Karl Joseph Kuwasseg
Saint-Siméon and La Grande Farm in Honfleur
Fine Art Prints | Greeting Cards | iPhone Cases | Tote Bags | Clothing | Lifestyle | Beach ...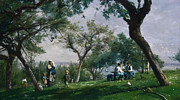 Adolphe-Félix Cals (17 October 1810 – 3 October 1880) was a French portrait, genre, and landscape painter. Cals initially trained as an engraver under Jean-Louis Anselin, then went on to study art at the atelier of Léon Cogniet. However he parted company with his (neoclassical-influenced) teacher, owing to the latter's lack of appreciation for the emerging impressionist movement in art.
In 1863, Cals exhibited at the "Salon des Refusés", alongside works by Monet, Degas and Pissarro. Art dealer Pierre–Firmin Martin, known as "Father Martin", liked his work, and Cals went on to paint portraits of Martin and his wife (now in the "Musée Eugène Boudin" in Honfleur). So began the next phase of his career; influenced by Jean-Baptiste-Camille Corot and Johan Barthold Jongkind, he worked in more subdued, less fawn-coloured tones, more closely matching the Impressionists without adopting the "purple-violet which some painters are flooding their paintings with"—as Victor Jannesson remarked in his book on Cals
(see bibliography)
Having divided his time between Paris and Honfleur since 1871, he finally decided to settle down, in 1873, in Honfleur, a port in Normandy which was home to many painters, and has been called "the cradle of impressionism".[1] A friend of Jongkind, he regularly visited the "Saint-Simeon Farm", an inn in Honfleur, famous as a meeting place for artists and writers, such as Claude Monet, Eugène Boudin and Baudelaire, as well as Jongkind himself.[2]
Having settled, with his daughter, in Honfleur during the last decade of his life, Cals painted the harbor, the sea and its associated human life. At the invitation of Monet, he participated in the first Impressionist exhibition in 1874 and 1876, until 1881.
Cals died in Honfleur on 3 October 1880, aged 69.

References
Honfleur and the Côte de Grâce (French Government tourist office).
The "Saint-Simeon Farm".
This article incorporates text from French Wikipedia, Adolphe-Félix Cals.
This article incorporates text from the article "COLS, Adolphe Félix" in Bryan's Dictionary of Painters and Engravers by Michael Bryan, edited by Robert Edmund Graves and Sir Walter Armstrong, an 1886–1889 publication now in the public domain.
Bibliography
Alexandre, Arsène. A.F. Cals: ou, Le bonheur de peindre (Paris: G. Petit, 1900).
Jannesson, Victor. Le Peintre A.-F. Cals (1810-1880) et son élève J.-A.-E. Bataille (1828-1911) (M. Bourges, 1913).

Artist
A - B - C - D - E - F - G - H - I - J - K - L - M -
N - O - P - Q - R - S - T - U - V - W - X - Y - Z
Retrieved from "http://en.wikipedia.org/"
All text is available under the terms of the GNU Free Documentation License