Abraham Storck (or Sturckenburch)
Paintings
Dutch Whalers Near Spitsbergen
An English Yacht saluting a Dutch Man-of-War in the port of Rotterdam
Whaling Grounds In The Arctic Ocean
A Mediterranean Harbour Scene With Travelles On The Shore A Dutch Man-of-war On The Left
Italianate Harbor Scene With Figures And Animals In A Grand Architectural Setting
View of a Harbour on the Zuiderzee
Seascape with View of a Beach Animated by Figures
Fine Art Prints | Greeting Cards | iPhone Cases | Tote Bags | Clothing | Lifestyle | Beach ...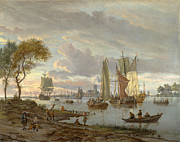 Abraham Storck (or Sturckenburch) (bapt. 17 April 1644 – buried 8 April 1708), was a Dutch landscape and maritime painter of the Baroque era.
Storck was born and died in Amsterdam, and came from a family of painters of the same name. He had a painter's studio in Amsterdam producing naval and harbor scenes as well as landscape paintings. He was influenced by the two Willem van de Veldes (the elder and the younger) and by Jan Abrahamsz Beerstraaten.
See also
Artist
A - B - C - D - E - F - G - H - I - J - K - L - M -
N - O - P - Q - R - S - T - U - V - W - X - Y - Z