Abraham Bloemaert
Paintings

The Four Fathers of the Latin Church
The Adoration of the Magi
Venus and Adonis
Parable of the Wheat and the Tares
The Adoration of the Shepherds
Mercury Argus and Io
Shepherd Boy pointing at Tobias and the Angel
Joseph and his Brothers
Sine Cerere et Baccho friget Venus
Apollo and Diana Punishing Niobe by Killing her Children
The flute player
Youths playing with the Cat
The Four Evangelists
Charity
Landscape with the Ministry of John the Baptist
Circe
The Feast of the Gods at the Wedding of Peleus and Thetis
Coronation Scene
Old Woman
Head of an Old Man
Landscape with the Ministry of John the Baptist
The Lamentation of Christ
Old Man
A cottage with peasants milking goats
Theagenes receiving the palm of honour from Chariclea
Moses Striking the Rock
The Judgement of Paris
Judith Displaying the Head of HolofernesVenus and Adonis Sine Cerere Et Baccho Friget Venus
The Four Fathers Of The Latin Church
The Annunciation To The Shepherds
Landscape with the Prophet Elijah in the Desert
The preaching of John the Baptist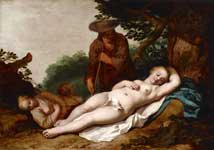 Drawings, Illustrations
Juno
A Barnyard with Goats and a Goatherd
The Virgin in Glory
The Holy Family
Landscape with Seated Figure and Dog
Ritual Washing of the Israelites
Two Female Heads
Christ and the Canaanite Women
Seated Bishop
Acis and Galatea
Study sheet with horticultural crops
Illustration to "Abraham Bloemaert's drawing school"
Illustration to "Abraham Bloemaert's drawing school"
Illustration to "Abraham Bloemaert's drawing school"
Illustration to "Abraham Bloemaert's drawing school"
Illustration to "Abraham Bloemaert's drawing school"
Illustration to "Abraham Bloemaert's drawing school"
Illustration to "Abraham Bloemaert's drawing school"
Illustration to "Abraham Bloemaert's drawing school"
Circle of Abraham Bloemaert

Pastoral scene with a shepherd family against countryside background
Fine Art Prints | Greeting Cards | iPhone Cases | Tote Bags | Clothing | Lifestyle | Beach ...
Venus and Adonis
Abraham Bloemaert (1566 - 27 January 1651) was a Dutch painter and printmaker in etching and engraving. He was one of the "Haarlem Mannerists" from about 1585, but in the new century altered his style to fit new Baroque trends. He mostly painted history subjects and some landscapes.
Life
Bloemaert was born in Gorinchem, the son of the architect Cornelis Bloemaert I, who moved his family to Utrecht in 1575, where Abraham was first a pupil of Gerrit Splinter (pupil of Frans Floris) and of Joos de Beer.[1] From the age of 15 or 16, he then spent three years in Paris from 1581–1583, studying six weeks under a Jehan Bassot (possibly Jean Cousin the Younger) and then under a Maistre Herry.[1] While in the School of Fontainebleau he received further training from his fellow countryman Hieronymus Francken.[1] He returned to Utrecht in 1583, just before the French Wars of Religion began, which destroyed much of the work at the Chateau of Fontainebleau. When his father was appointed city architect (Stads-bouwmeester) in Amsterdam 1591 he accompanied him there, and on his father's death in 1593 returned finally to Utrecht, where he set up a workshop and became dean ("deken") of the "zadelaarsgilde" (traditional name of the Utrecht Guild of St. Luke from 1367 onwards) in 1594.[2] In 1611, along with Paulus Moreelse, he was one of the founders of a new Utrecht painters' guild, called "St. Lucas-gilde", and became its deken in 1618.[2] Many of Bloemaert paintings were commissioned by Utrecht's clandestine Catholic churches.[3] He died in Utrecht.
He excelled more as a colourist than as a draughtsman, was extremely productive, and painted and etched historical and allegorical pictures, landscapes, still-life, animal pictures and flower pieces. In the first decade of the seventeenth-century, Bloemaert began formulating his landscape paintings to include picturesque ruined cottages and other pastoral elements. In these works, the religious or mythological figures play a subordinate role. Country life was to remain Bloemaert's favourite subject, which he depicted with increasing naturalism. He drew motifs such as peasant cottages, dovecotes and trees from life and then on his return to the studio worked them up into complex imaginary scenes.[4]
Among his many pupils were his four sons, Hendrick, Frederick, Cornelis, and Adriaan (all of whom achieved considerable reputation as painters or engravers). The RKD also lists Jan Aerntsz de Hel, Abraham Jacobsz van Almeloveen, Cornelius de Beer, Nicolaes van Bercheyck, Jan van Bijlert, the two Boths, the two Honthorsts, Leonaert Bramer, Bartholomeus Breenbergh, Hendrick ter Brugghen, Jacob Gerritsz Cuyp, Willem van Drielenburg, Wybrand de Geest, Nicolaus Knüpfer, Hendrik Munnicks, Frederick Pithan, Cornelis van Poelenburch, Henrik Schook, Anthoni Ambrosius Schouten, Robert Jansz Splinter, Matthias Stom, Herman van Swanevelt, Dirck Voorst, Quintijnus de Waerdt, Jan Baptist Weenix, and Peter Petersz van Zanen.[2]

Public collections
Bloemaert is represented in the following collections: Detroit Institute of Arts, Michigan; Fine Arts Museums of San Francisco; Hermitage Museum, Saint Petersburg; Indianapolis Museum of Art, Indiana; J. Paul Getty Museum, Los Angeles; Mauritshuis Royal Picture Gallery, The Hague; Metropolitan Museum of Art, New York City; Minneapolis Institute of Arts, Minnesota; Musée des Beaux-Arts de Rouen; Musée du Louvre, Paris ; Museum of Fine Arts, Boston; Museum of Fine Arts of Nancy; Museum of Grenoble; National Gallery of Canada, Ottawa; Rijksmuseum, Amsterdam; Royal Academy of Arts, London; University of Rochester, New York; Bob Jones University, Greenville, South Carolina; Centraal Museum, Utrecht, Netherlands; Cleveland Museum of Art, Ohio; Courtauld Institute of Art, London; Harvard University Art Museums, Massachusetts; Kunsthalle zu Kiel, Germany; amongst others.
Rediscoveries
Lot and his daughters (120 x 220 cm), oil on canvas (rediscovered in 2006 by Prof. Alain Béjard & Dimitri Joannidès, Alicem institute, Luxemburg)
Abraham Bloemaert (1566-1651) and His Time by Museum of Fine Arts : St. Petersburgh Florida
The Bloemaert Effect: Colour and Composition in the Golden Age by Michael Imhof Verlag
Abraham Bloemaert and His Sons: Paintings and Prints (Aetas aurea) Hardcover – Import, December 31, 1993 by Marcel Georg Roethlisberger (Author)
References
(Dutch) Abraham Bloemaert in Karel van Mander's Schilderboeck, 1604, courtesy of the Digital library for Dutch literature
Abraham van Bloemaert in the RKD
"The Artist's Religion: Paintings Commissioned for Clandestine Catholic Churches in the Northern Netherlands, 1600-1800," Xander van Eck, Simiolus: Netherlands Quarterly for the History of Art, Vol. 27, No. 1/2 (1999), pp. 70-94.
Bolton, Roy (2009). The Collectors : Old Master Paintings, London, Sphinx Books, pp. 176-179.ISBN : 978-1-907200-03-8.
Public Domain This article incorporates text from a publication now in the public domain: Chisholm, Hugh, ed. (1911). Encyclopædia Britannica (11th ed.). Cambridge University Press.
----
Fine Art Prints | Greeting Cards | Phone Cases | Lifestyle | Face Masks | Men's , Women' Apparel | Home Decor | jigsaw puzzles | Notebooks | Tapestries | ...
----
Artist
A - B - C - D - E - F - G - H - I - J - K - L - M -
N - O - P - Q - R - S - T - U - V - W - X - Y - Z